From Kingoonya we headed east to the Stuart Highway and then a couple of hours north to Coober Pedy. We were happy enough to be driving on smooth dust-free bitumen until a road train blew past and threw up a rock which cracked our windscreen. We knew it had to happen at some point!
Neither of us really knew what to expect from Coober Pedy. As it turned out, it is one of the most weird and wonderful places we've visited. The town shimmers with weird and wonderful characters and, of course, the opals which have made it famous.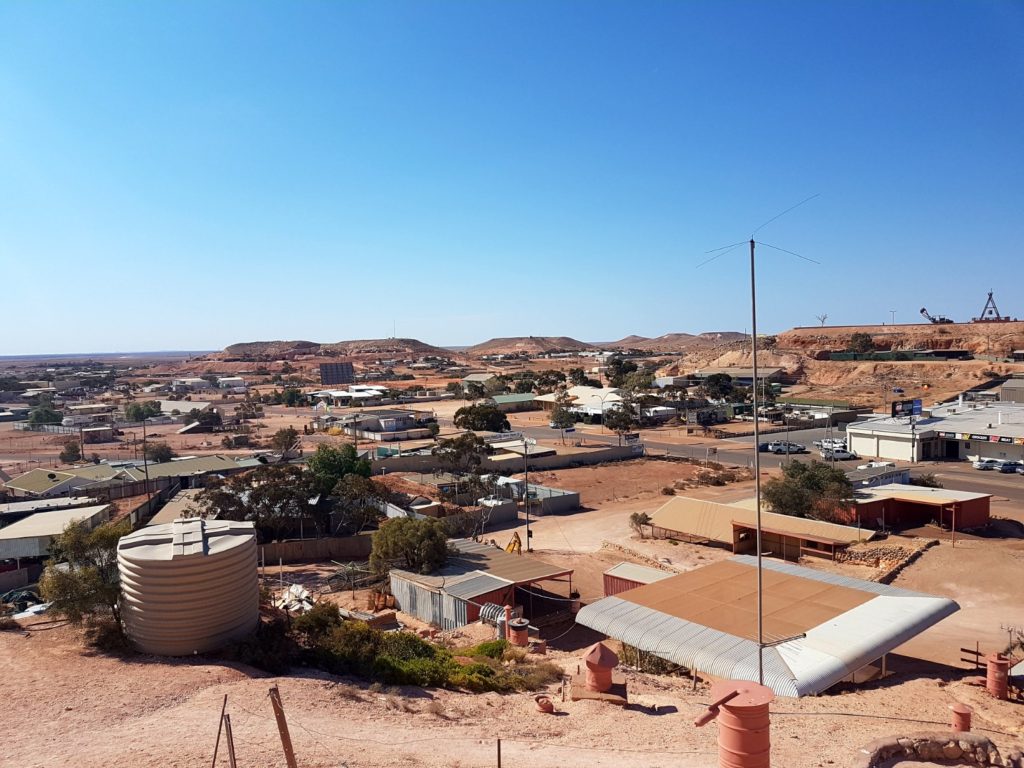 The sun beats down, a spaceship lies abandoned in the main street, caravans clog the road and dust swirls all around. On one occasion we watched open-mouthed as a whirly wind lifted a sheet of corrugated iron from the roof of a building and crashed it into the street, missing a parked car by an inch. No one batted an eyelid, so we guess it must happen regularly.
Highlights included finding an opal in the public "noodling" (read: opal fossicking) area in Jewellers Shop Road (bonus points because Neddy Noodle felt so at home here), the Coober Pedy drive-in cinema (Laura had never been to a drive-in), and the underground Umoona Opal Mine and Museum which was a cool insight into the history of the area and a welcome respite from the sun.
We also really enjoyed heading out of the main drag and driving around the residential area. It's hard to imagine how these little houses (and their inhabitants) can withstand the unrelenting sun and dust day in, day out, year after year. Given the caves remain a comfy 23 degrees no matter the outside temperature, we can see why many prefer to live underground.
More than any other place we've visited, the harsh climate really made us reflect on the traditional owners of the area and to contemplate the connection and kinship the Aboriginal people must have had with the land to allow them to flourish here. Take away the cushiony comfort of our troopy and we know we'd struggle to last a day.
One afternoon we took a short drive north to the Kanku-Breakaways Conservation Park where we enjoyed the most breathtaking sunset of our trip. We made the very most of it, throwing open our rear door and cooking dinner on our little stove as we watched the daylight slip away.
We also had to allocate a portion of our time in Coober Pedy to figuring out what to do about our dead-as-a-doornail inverter, which had given up the ghost on Goog's Track. After chats with our auto-electrician and the company the inverter was purchased from, it was decided that a new inverter would be posted to Alice Springs. In the meantime, laptop and camera charging won't be happening unless we stay at caravan parks. Ahhhh damn.