After crawling out of Eyre Peninsula dunes a few days ago, we were both well and truly desert hacked. Dusty beyond belief, neither of us had any clean clothes, Jono was surfed out, sore and limping from ulcerated flipper sores, reef cuts and unexplained foot rashes, Laura was sporting unevenly tanned hands from long shifts of filming, and Tennyson and Ned were as dirty as they've ever been.
That said, the recent days have been an epic time with a truly epic crew and we can't believe how lucky we are that the stars aligned to make it all so. Even better, we are writing this fresh and clean after recently enjoying our first hot shower in more than 30 days. We imagine the shower drain feels less fresh and clean and will probably remain clogged for some time.
Anyway, back to where we left off on our last post. After leaving Port Lincoln, we headed back in the direction we'd come, stopping in Streaky Bay overnight where we enjoyed a pub feed with Callum, Sam and Cohen. While the town is picturesque and probably has many things to recommend it, Jono's biggest thumbs up go to the public toilet which he gives a solid 5-star rating.
The next day, we had a bit of a scare after greedy guts Ned scoffed some of Callum's out-of-date mince and managed to inhale everything in the packet, which we thought might include an absorption sachet. After Googling the possible ramifications of this and calling the closest vet (located four hours away), Callum had the genius idea to call Coles and ask what they put in their mince packets.
Luckily for Ned, and for us, it was just some kind of wax paper. So, rather than taking an extremely long drive in the wrong direction, we were advised to keep our eye on him for any signs of ill health, none of which appeared. As Jono always says about Ned, "if you're gonna be dumb, you gotta be tough".
We also actually thought about taking Callum to a health and/or psychiatric specialist after he knowingly ate mince patties bought four days previously and left unrefrigerated in his car thereafter. He claims to have guts of steel and we guess he proved the truth of this since no ill effects appeared for him either. Perhaps the Ned saying applies to both parties.
From Streaky, we headed into the dunes where we spent eight amazing days chasing swell, meeting awesome people, listening to Callum rap by firelight, marvelling at Sam's battered old Camry as it slithered around putting 4WDs to shame (and only got bogged twice), pissing ourselves at Cohen when a mistimed breeze and broken tent flap caused him to wee all over his sleeping bag, spotting dune cats, shnacking, day trips, stargazing and so much more.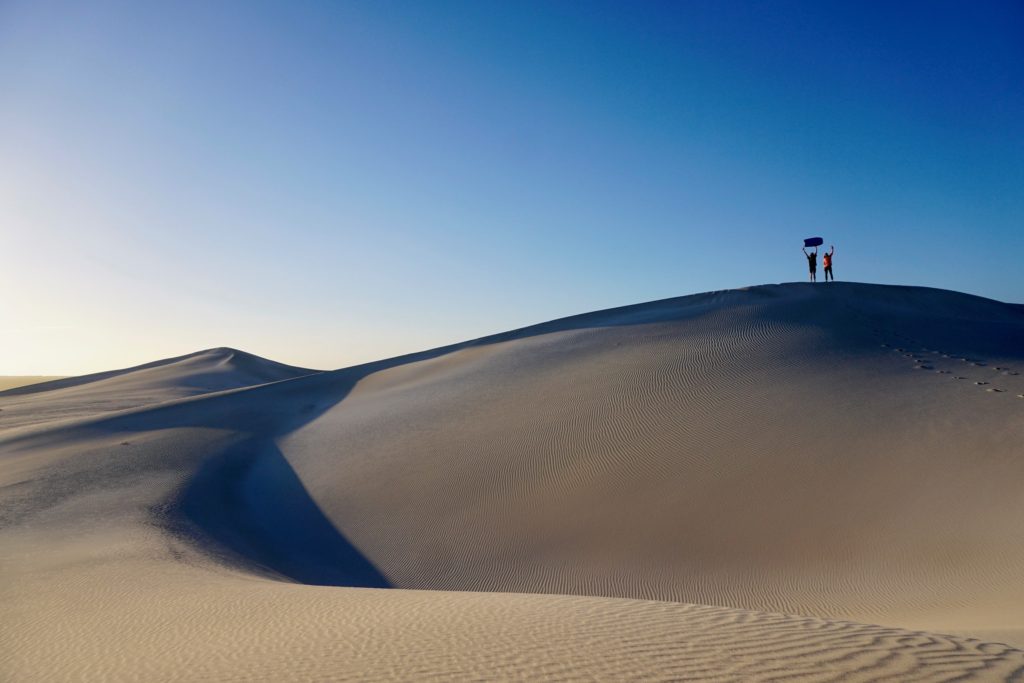 Ned had an excellent time making friends with other crews and would routinely disappear to their campsites for pats and treats – he ate better than we did! He did disgrace himself on one occasion when implacable hatred for his nemesis, the drone, whipped him into such a frenzy that he gave Laura a fat lip.
On Sunday, after the boys had one final surf in a continuously barrelling 4-6 foot lefthander, our time together was up. A quick photo and footage swap later, we all said our farewells, parted ways, and the three of us beelined for a dog-friendly cabin in a Ceduna caravan park. Here we've spent the last couple of days showering, cleaning, doing laundry, washing our car etc. etc. Next up, the Googs Track and beyond!