Our fourth week on the road – also our third on the Eyre Peninsula – has been one of bad weather, epic sunny days, catching up with old friends, boggings and chasing waves. Pretty much all the usual ups and downs of life on the road.
After the most amazing sunset on Thursday night, we spent Friday hiding in the car at Drummond Point while wind and rain gusted. Thankfully, Ned was so worn out after a few days of full-on activity he was pefectly content to chill. In fact, every time we let him out of the car he'd cower so pathetically (he hates wind) that we'd take pity and let him back inside.
One day in the car was more than enough and we were stoked to wake on Saturday to amazing warm sunshine. We made the most of it by airing our bedding over bushes and enjoying pancakes at our five-star car brekky bar. Right around the time of the full moon, Jono also gave an unsuspecting ute-full of guys a moon they hadn't bargained for when they drove past our campsite just as he was standing butt-naked in the sun. To Jono's credit, he didn't run for cover when he realised what was happening but instead remained frozen (he says "dignified") until the ute disappeared from sight.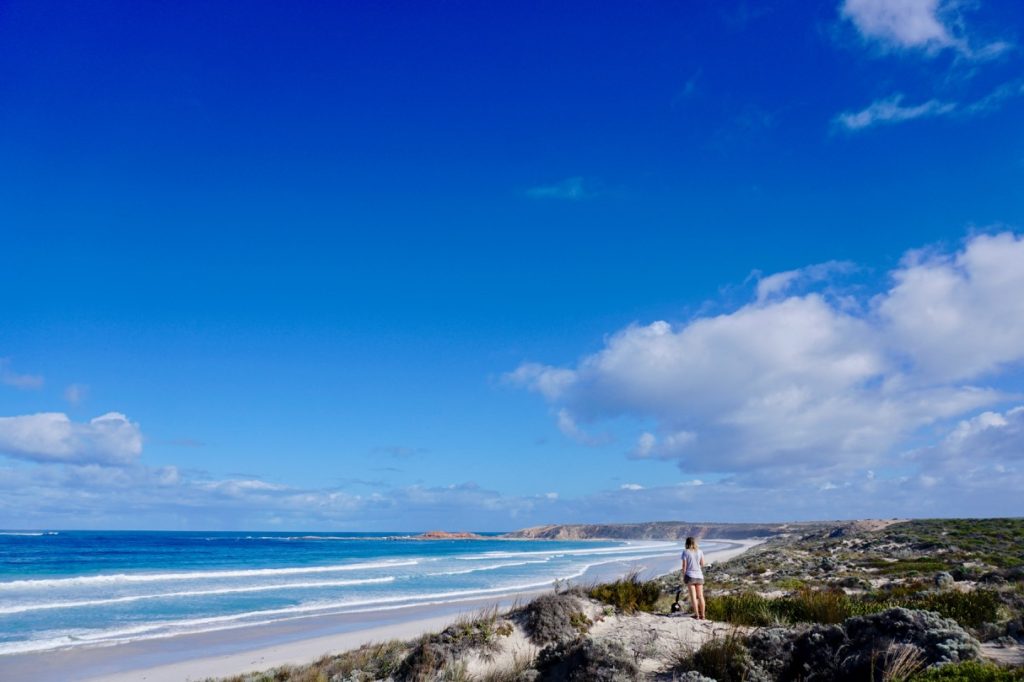 After Jono was finished flashing strangers and we had packed up our camp, we headed north to Elliston to catch up with a couple of mates. First up was Neil, an Elliston local who we bonded with on our last trip over our similar vintage Olympic caravans. Then we watched Callum – one of the three Tassie boys who we know and love for their fondness for frothing, frothies and schnacks – play in a local AFL game. It was cool to see such a big turnout in such a small place.
That night, Callum took us to a local roadhouse which is a real icon in the area. A fire took the edge out the freezing chill in the air, the owner kept us entertained with a running commentary and we all marvelled at Heidi, a rescued baby wombat whose mother had been killed by a car. Hats off to Bel who is doing an amazing job of looking after her around the clock. Fun fact: in the absence of their mother's milk, a baby wombat's beverage of choice is reduced-fat soy milk. How hipster.
Eyre Peninsula dune hangs
After nooking into a good camp spot in the dunes, the next few days were a blur of surfing, or, in Laura's case, taking photos and filming, chores (there's always so much that needs doing when you're camping!), and freezing evenings spent sitting around a campfire. Crews came and left, but there was always plenty of legends to have a chat with.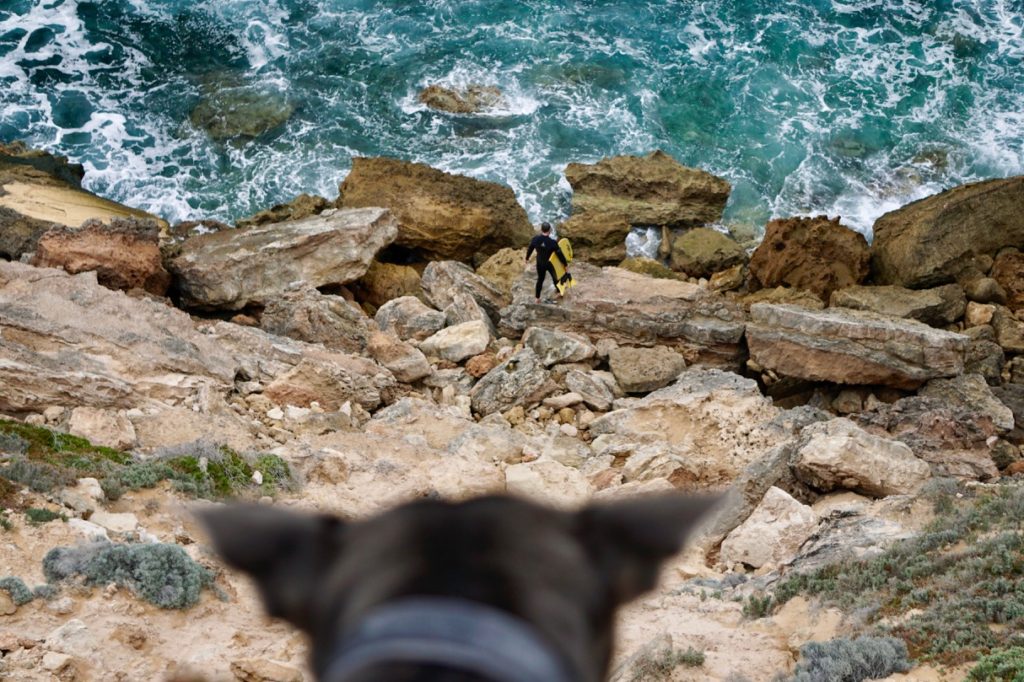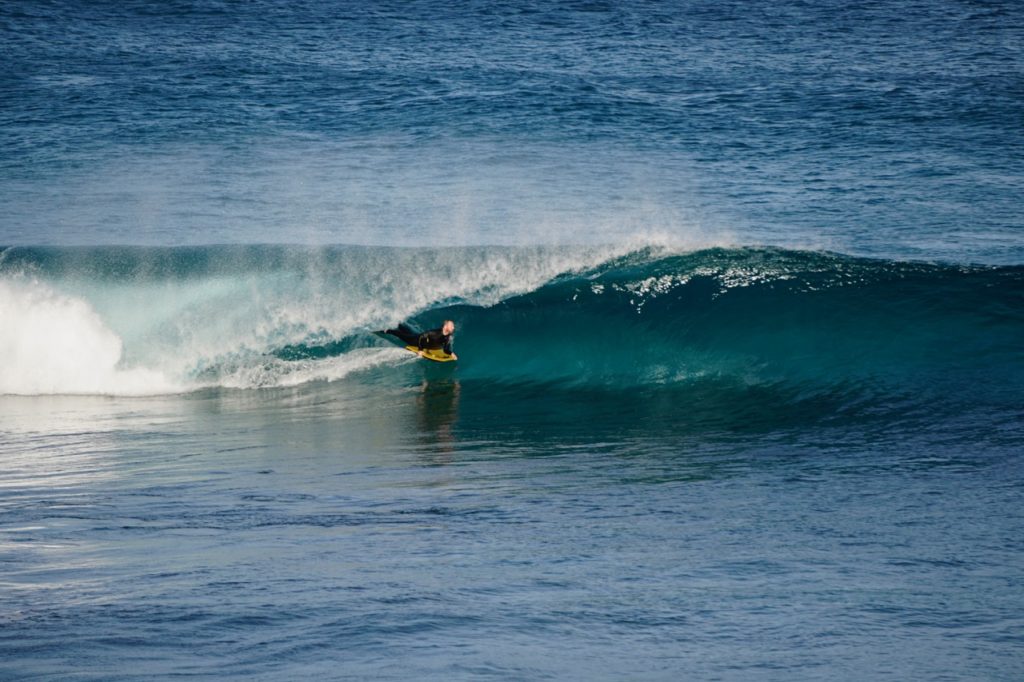 On one day, after we'd fed a few of the boys some leftover pancakes (yes, we eat a lot of pancakes!), Callum told us we were the "mum and dad of the campsite". It was a bit of a slap in the face to realise we are the oldies but we take heart from the fact that he at least didn't call us "grandma and grandpa". Maybe we'll graduate to that by next trip?
We spent one arvo on the beach with Callum, Sam and Ollie who fished while we walked Ned in the dunes. We were pleased it only took us ten minutes to lure Ned away from racing between them, chasing their lures. Unfortunately, Ned's fishing etiquette has not improved since our first trip.
While trying to drive off the beach, Callum's ute got bogged in the sand and it took a bit of digging and the use of our MaxTrax to get him out again. We thought we might get bogged ourselves, and so were happy when trusty Tennyson managed to get out of there on the first go.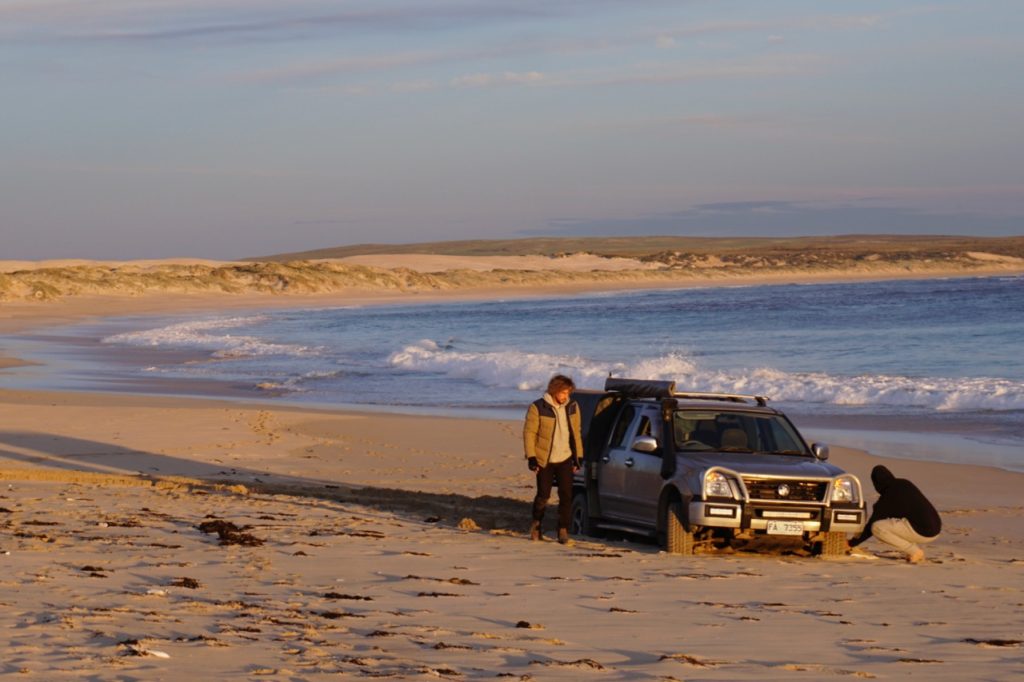 With the forecast looking distinctly average for the next couple of days, we made the call to backtrack to Port Lincoln to wait it out and replenish our supplies. Laura took the chance to get a filling and we spent tonight at a local pub showing the Tassie boys just how good we are at pool (read: not good at all).
No Jonoisms to report this week, although he did get very excited about a "shooting star" which he watched for 30 seconds, and then a minute, and then longer before conceding that, yes, it may have been a satellite.
Laura's wallet-slash-phone almost came to a nasty end after it fell out of her pocket and into a deep hole which she had filled with something we won't talk too much about. Barely able to bring herself to view the carnage, she clamped her nostrils firmly closed and peeked in with just one eye – and could scarcely believe the wallet/phone had somehow lodged in the corner of the hole, just one centimetre above the steaming contents. Pockets are now always zipped closed.
Also, no Eyre Peninsula shark stories to relate (hurrah!) although there have been a couple of heart-in-mouth moments which ended up being dolphins, seals or things which remain unidentified but at least didn't bite anyone.
Hot showers have still not been had. Send help. Or Gernis.