In the interests of efficiency (our middle names) we booked Bernie and Claude in for servicing at Port Augusta on the same day. Though Bernie passed his inspection with flying colours we received the unwelcome, though not unexpected, news that the charger in our caravan had malfunctioned and that both our batteries had died as a consequence. RIP. A few tears (Jono's of course) and a couple of hours later Claude was proudly sporting a flash-Harry new system, which we tried to muster enthusiasm over given the significant knock to our bank accounts.
We can't neglect to mention the lovely Betty and Brian, who we met while waiting at the auto-electrician. From Castleton in Victoria (the home of the kelpie), they were on the maiden voyage in their new secondhand RV and had experienced electrical problems similar to ours. It was a short step from chatting about our travelling rigs to writing our contact details in their address book, looking at photos of their grandchildren and promising to drop into their house for tea and cake if we were ever in the area. Encounters such as these are part of what makes this adventure so enjoyable.
On instruction from the auto-electrical guys we checked ourselves into a nearby Port Augusta caravan park so that we could fully charge the new batteries and check everything was in working order. Our hearts did not lift at the sight of the 10 foot, barbed wire topped fences surrounding the park, the enormous metal entrance gates with spiked tops, or the numerous signs reminding us that thieves operated in the area. We did, however, enjoy a conversation at the local shops with a check out girl who could not hide her bafflement at our forthcoming drive across the Nullarbor: "Do you know you can catch a plane and get there on the same day? You should do that instead".
We didn't dally in Port Augusta. As soon as our batteries had charged we were off and away, our sights set on the Eyre Peninsula. However, we'd only driven about three hours when Jono received a phone call from "Constable Louise X from Port Augusta Police station". Constable Louise was on loudspeaker, which meant Laura got to witness the range of expressions crossing Jono's face while he tried to figure out which law/s he'd broken.
As it transpired, Jono hadn't broken any laws that Constable Louise was aware of, but she did have his wallet at the police station. This was bittersweet news, as we hadn't even realised his wallet was missing. We felt lucky and grateful that (a) though the wallet had been emptied of cash it was otherwise intact (b) we had sidestepped that horrible lost-item-realisation stress / step-retracing nonsense and (c) Constable Louise offered to transport it to Port Lincoln for us so we didn't have to backtrack. High fives all around.
Since transport of the wallet was going to take a week or so, we weren't in any hurry to get to Port Lincoln and decided to check out a free-camping spot called Moonlight Bay. Good decision! Though there were limited caravan-friendly spots there wasn't a soul around when we arrived and so we set up at a beautiful, grassy site. The ocean was metres from our front door and empty green fields stretched out behind us.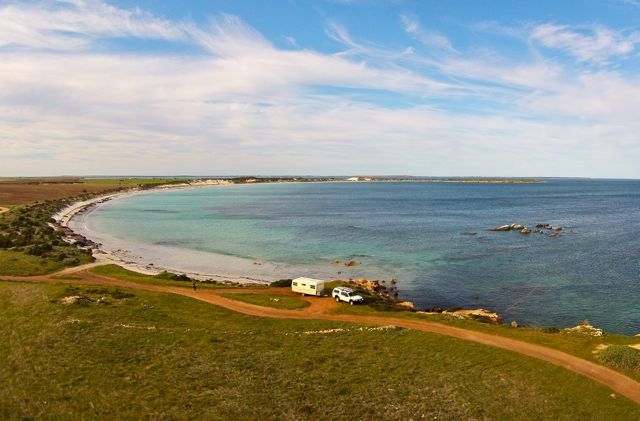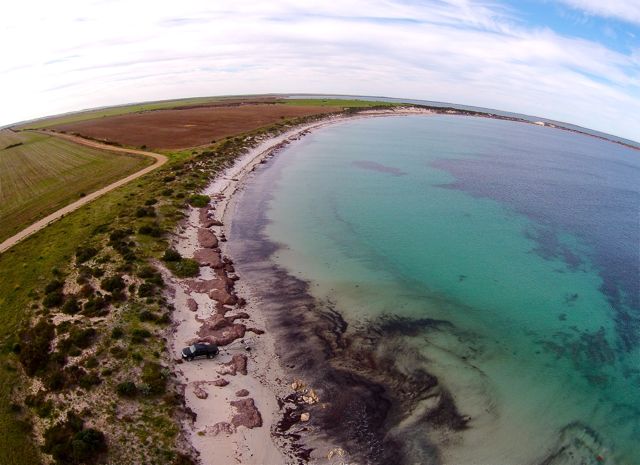 We spent a lovely time at Moonlight Bay wandering the coastline and playing with Ned, who made a game of tearing up and down the perpendicular sand dunes, wearing himself out and generally being a moron. We particularly recommend experiencing sunsets from the dunes. They were breathtaking.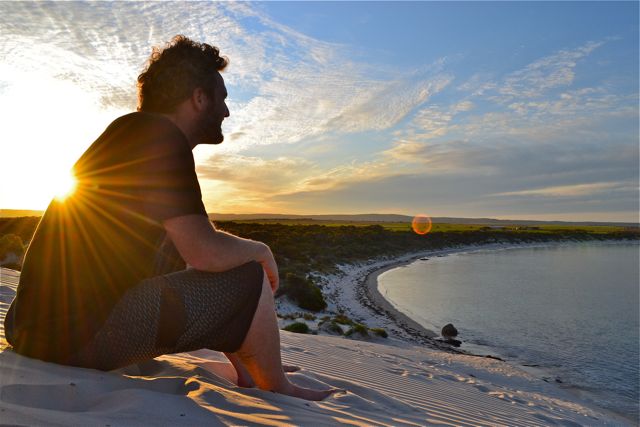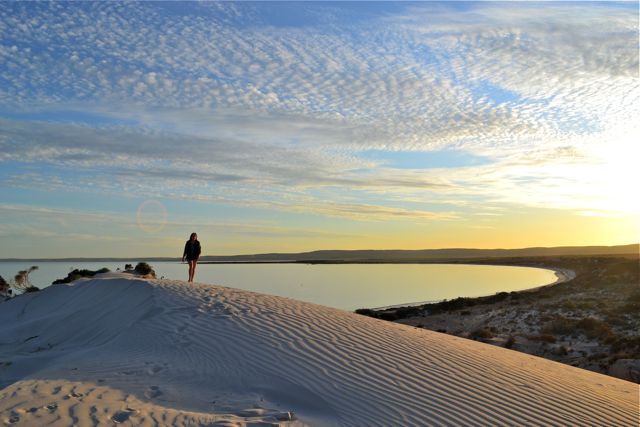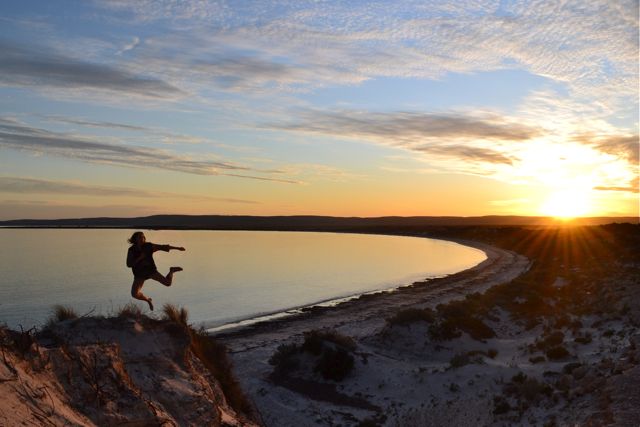 From Moonlight Bay we ventured to Port Lincoln, managing to smash our Hema navigator screen on our way there. Momentary panic ensued as we have come to rely very much on the navigator, particularly for driving in remote areas, and we knew we'd be crossing the Nullarbor in the not-too-distant future. A quick call to Hema and we'd arranged to post it to their Brisbane office for repairs and have them send it back to us care of Elliston Post Office. It was surprisingly easy and not overly expensive. Phew.
As for Jono's errant wallet, we got it back with no further problems. Double phew. We then headed south of Port Lincoln to a place called Sleaford Bay, just outside of Lincoln National Park, which was perfect for an overnighter. Although beautiful it would have been nicer still if visitors would refrain from leaving their human waste unburied and embellished with wads of toilet paper. We really don't understand the mindsets of some people.
While there we met a couple of locals doing a surf check. They pointed the Neptune Islands out to us, which is a natural feeding ground for great white sharks and the home of shark cage diving in Australia. They also told us about the shark attack which had taken place just weeks before at a break within a stone's throw of our campsite. Apparently the unlucky surfer was closest in to the beach and the bite severed his leg from his body – although it remained attached to his surfboard by the leg rope.
We think sharks are amazing creatures, to be respected, and believe in research and education rather than knee-jerk reactions like culling. However, on balance, we decided against going cage diving while on the Eyre. There's a lot of surfing ahead and we didn't want to give our imaginations too much food for thought. Hopefully we'll be back for it another time.