We kicked off our Eyre Peninsula west coast adventure by heading to a free camp called Point Drummond. On arriving at this very isolated, very beautiful, coastal stretch we found there wasn't all that many caravan-friendly sites available. After driving around the dirt tracks for a little while we ended up parking on a cliff's edge. Though somewhat exposed to coastal winds it also offered uninterrupted 270 degree ocean views. No complaints from us.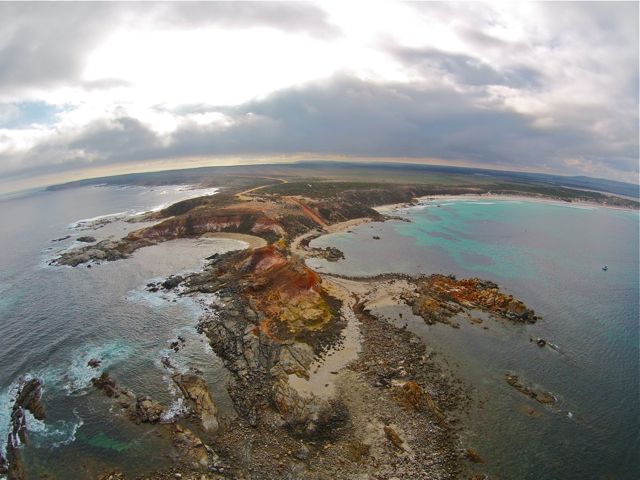 We enjoyed Point Drummond so much that our initial plan (staying overnight) seemed ludicrous. The views, the abundant wildlife and the isolation seemed part of a conspiracy designed to keep us there. However, it wasn't a conspiracy we felt particularly inclined to foil and days went by before we even thought of leaving.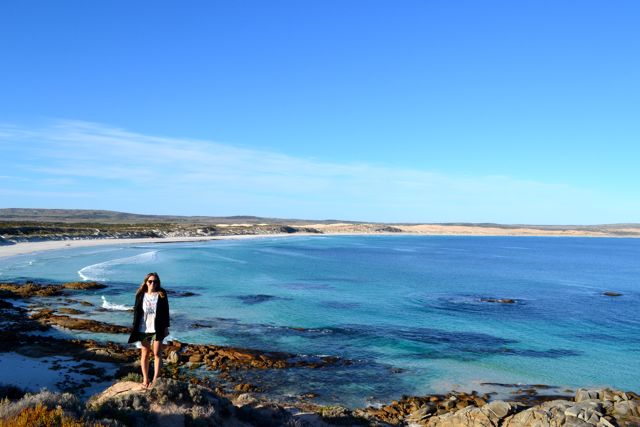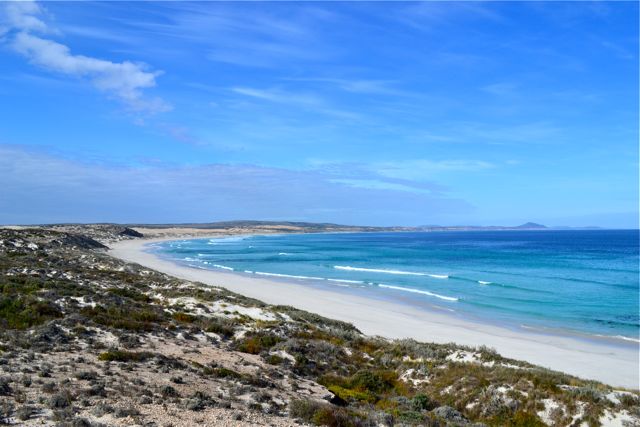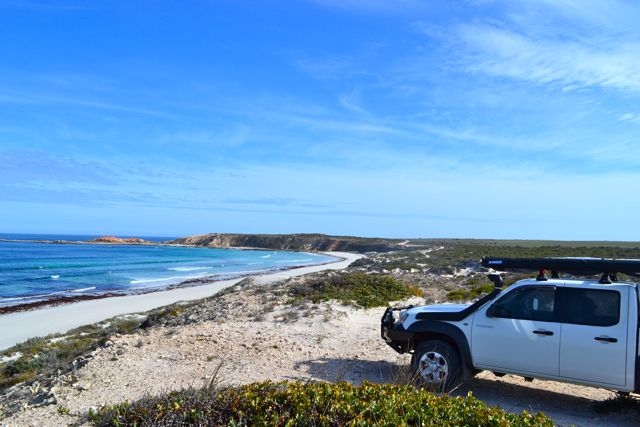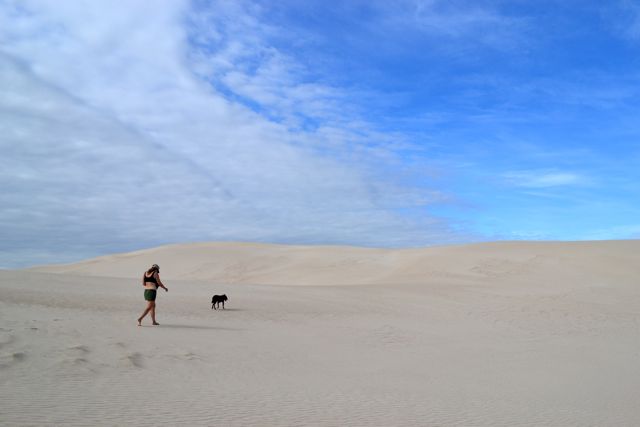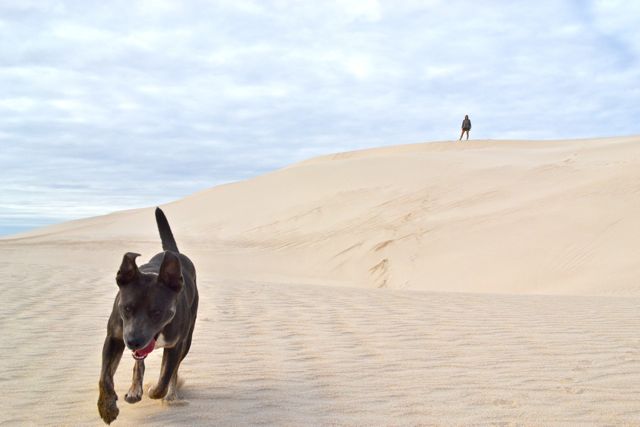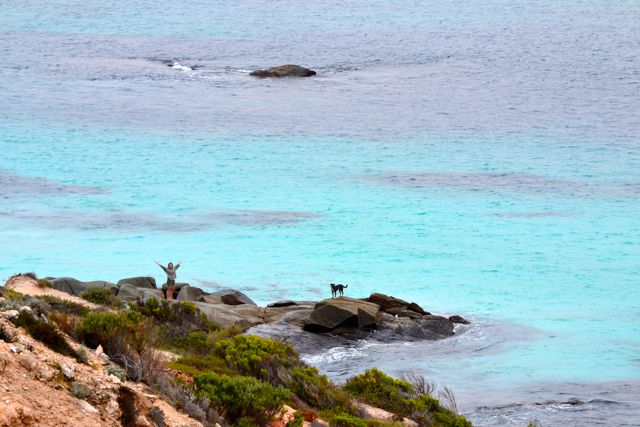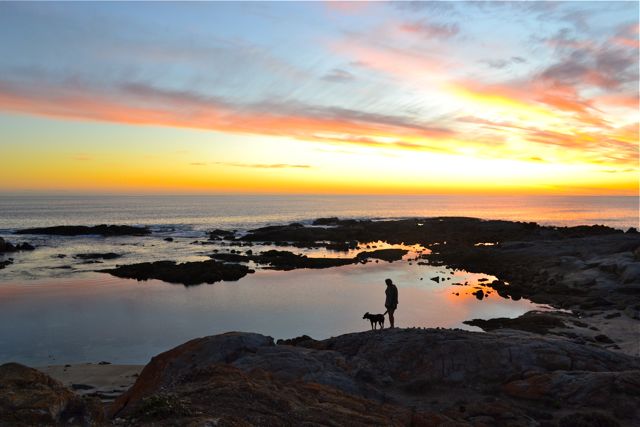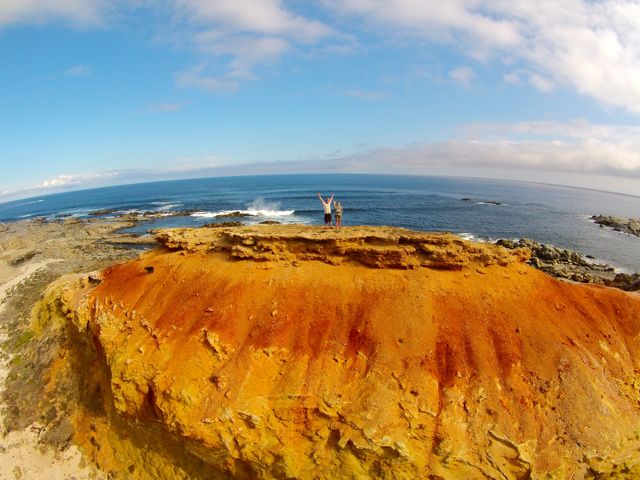 Jono, amped for some waves, spent time pinpointing west coast breaks he wanted to check out. At first glance this appeared a list like any other and it was only when we looked more closely that a common thread began to emerge: Anxious Bay, Point Avoid, Point Catastrophe and Coffin Bay were some of the names that jumped off the page. Hm.
On leaving Point Drummond we checked into the Elliston Caravan Park, which was run by a super chilled, super nice young couple. After getting talking to Richie in the front office we discovered he was the surf photographer behind @sa_rips, an Instagram account Jono has followed and admired for ages. @sa_rips has gained quite a following in recent times and we highly recommend taking a look if you haven't already. It perfectly captures the atmosphere (both the magnificence and the menace) of the South Australian coast.
Early on our first morning in Elliston we were surprised to hear a knock on our caravan door. We opened it to find a man standing there, a stranger, who told us that he'd noticed our caravan driving through town and tracked us down. Though this seemed odd initially, it transpired that Neil owned an old Olympic, too, and was keen to have a look at the modifications on ours. We invited him in, showed him around (this didn't take long), made him a cup of tea and ended up chatting for quite a while.
Neil turned out to be an ex-cray fisherman, a local surfer, a guru of all things ocean and an all-round excellent guy. We were stoked to be invited for sunset drinks with him and his partner, Ros, at their home, where we checked out their Olympic caravan, watched the sun set over Waterloo Bay and enjoyed their excellent company. Other Elliston highlights included the Little Bay and Anxious Bay cliff top loop drives, the Woolshed Caves, the post office (it received 50 bonus points because there was a dog behind the counter) and Laura's chance encounter with a local farmer named Louis.
Said encounter occurred one day at a surf break when Laura was taking photos of Jono surfing and Louis arrived to enjoy lunch-with-a-view. The two of them got talking and the conversation somehow culminated in Laura being offered a free baby goat. Naturally she thought Baby Goat would be an excellent addition to the round-Australia adventure and was most indignant when Jono didn't share her enthusiasm. In fact, he vetoed the idea ruthlessly, condemning us all to a bleak and goatless caravanning future (which continues to this day).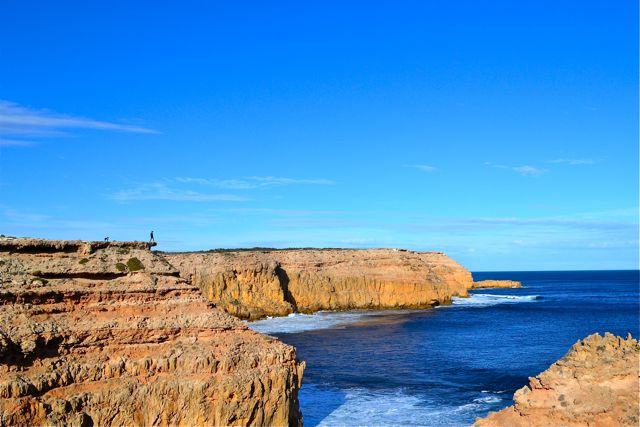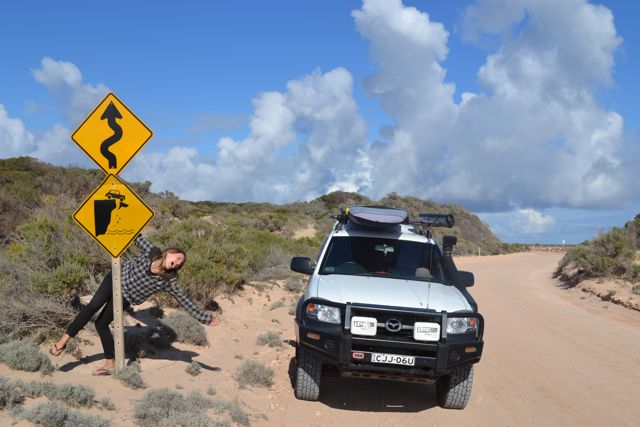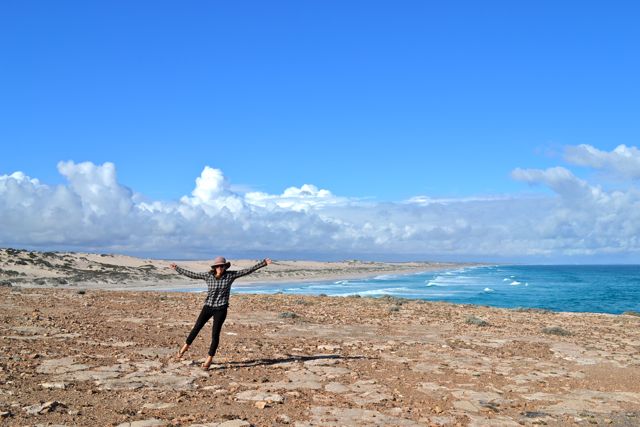 As for surfing, the waves were excellent. They were also daunting, mostly involving sketchy climbs down cliff faces and deep, dark channels which encouraged imaginings of large and toothy creatures. Keeping in mind Jono's shark-safety theory based on percentages (one other surfer improves safety by 50%, two other surfers improves safety by 66.6% and so forth), we were happy to arrive at a break to see a couple of body boarders already out in the waves, with a third filming from the rocks.
Sam, Callum and Cohen – Tassie boys at the start of a three-week surfing trip – at first mistook Jono for an angry local. Relieved to find otherwise, they were as pleased as Jono was to have extra shark bait company in the water. After running into them a second time we cemented the friendship with sunset beers overlooking the Cummings Monument cliffs. The bond was strengthened on a third occasion when we arrived at a Sheringa surf spot to find them on the rocks, having just been chased out of the water by a shark.
We didn't know it yet, but we would be spending a fair bit of time with this trio in the days to come.