During our final days in Elliston reports began to filter through that a mammoth storm cell was brewing off the coast of Madagascar. If things unfolded as predicted this storm would create a swell so large that it would affect up to 70% of the world's oceans, generating surf conditions that dreams are made of. Well accustomed to Mother Nature's tempestuousness, we barely dared to hope that it would pan out. However, this didn't stop Jono from checking the swell charts so often it looked like he had a nervous tick.
We farewelled Sam, Callum and Cohen, who were heading in search of fresh waves, swapping mobile numbers and making hopeful – if somewhat vague plans – to bump into them again. Our own intentions were to hit up Cactus Bay, a well-known surf break and camping spot, and one of the few places we'd been intending to visit from day dot. However, as reports of the impending 'swell of the decade' upgraded from rumour to seeming fact, we changed our plans, and decided to try and catch up to the boys.
Instead of Cactus we pointed our car deep into the (coastal) desert. We knew the boys didn't have reception as Callum had texted us a screenshot map of their campsite during a food-buying foray. Only mildly daunted by the fact that the map didn't have any identifying features, such as coordinates or streets, we continued through salt marshes, down dirt tracks and into oblivion.
At one point we passed a herd of horses. Milling peacefully by the side of the road, they took fright as we trundled abreast of them before bolting away in a thunder of hooves. Not wanting to scare them further we stopped the car and watched the spectacle. We'd like to say Neddy was supremely unconcerned by this turn of events, but that would be a lie. He barked like a mad thing.
We drove on and on, not at all sure if we'd ever be able to get our caravan out again. Laura spent a good chunk of time outside the car, scouting ahead to check the terrain. The narrow, winding tracks branched off in all directions making us feel as though we were in a maze. Things were a bit easier once we'd reached the coast and could use the ocean as a marker, but there was still a lot of desert to cover and the boys could have been anywhere.
After an initial red herring (we spotted what we thought were three sets of footprints leading into sand dunes and spent a fruitless half hour following them) we were stoked to see the Sam's trusty blue Camry parked near a tumbledown fence. When Jono spotted two bodyboarders already in the water he was into his wetsuit and running almost before we'd cut the engine.
That first night was a good one. Having successfully completed our mission to find Sam, Callum and Cohen, we wedged our caravan into a nook twenty metres from the boys' campsite and enjoyed some schnacks around a campfire, looking forward to the week ahead.
On our first full day in the desert – the day before the swell was due to hit – the boys enjoyed a couple of sessions at a fun little reef break. By any measure the waves were amazing. Laura, possessing nowhere near the skills required to surf them, spent time a lot of time with a camera in her hand. Noticing that Sam, Callum and Cohen rotated filming duties, which meant they could never be in the water all at once, she offered to film using their equipment. However, she hadn't anticipated the critical nature of this role and felt quite nervous when they sat down afterwards to analyse each wave with eagle eyes.
Relieved to hear that she'd managed to catch most of the goings-on while keeping the important bits in frame, Laura now found herself as front runner for the position of official group videographer. More than happy to oblige, she was also quietly shitting herself, not wanting to miss any career-defining moments.
Next morning the Tassie boys woke with the morning dew. We suspect their early rising was due to a combination of excitement, the non-waterproof nature of their tent and fact they were sleeping on yoga mats. Ourselves the proud owners of a delightfully soft and dry innerspring mattress, we were a little slower to emerge. When we arrived at the big wave spot it was clear that the swell had picked up a gear. A number of surfing crews, which included some of Australia's best big wave bodyboarders, dotted the cliff line. Some had driven twenty-four non-stop hours to get there. All of us watched as massive barrels pounded a shallow reef a few hundred metres out to sea.
We didn't know it yet but our half hour sleep-in had saved us from witnessing an horrific wipe out. One of Sam, Callum and Cohen's mates had taken off a little too late and air dropped from top to bottom of a huge wave. There was so much water churning that his body didn't break the wave's surface and so he'd been sucked up, over and drilled into the reef. Luckily a nearby jet ski was able to get him out of the impact zone and on to land. However, with a head wound, a suspected pierced lung and the closest hospital hours away, people feared the worst.
Blissfully unaware of all this, Jono wanted to get into the water and get going before nerves kicked in. So, when we pulled up next to the Camry and one of the boys asked "You ready to paddle out, or what?" Jono didn't hesitate. "Hell yeah", he said, and started suiting up. Jono's false bravado spurred the boys into action and before Laura knew it, she was watching, camera in hand, as the group of four picked their way down a crumbling cliff face and paddled into the channel.
Although the vibe in the lineup was one of comradery, the boys' arrival signalled something of a shift change and it wasn't long before the existing group paddled in, followed by their jet ski. For a short time Jono, Sam, Callum and Cohen were on their own at this unfamiliar break in some of the heaviest, sharkiest waves they'd ever seen. They found their bearings on the reef and began to take turns paddling into solid barrels.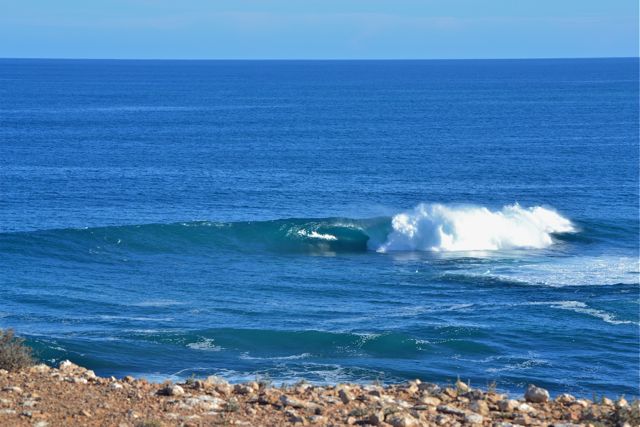 A few hours later, when the tide was starting to become too low to surf, the boys returned to a relieved Laura and an enthusiastic Neddy, who showered their feet with rocks (for throwing). Mostly adhering to the boys' strict No-Watching-Footage-at-the-Beach rule, we sat on the cliff and absorbed the raw beauty of our surroundings. Then it was time to head back to camp, start the fire, drink some beer and turn on the laptop, where we huddled around to relive the day's waves.
Day three began with another early start. Laura, taking on the role of mother hen, was determined to ensure the boys ate something besides tinned-everything and Two Minute Noodles. She cooked up wholesome spelt banana pancakes topped with ricotta and maple syrup and made sure everyone had some. We arrived at the cliff to see that the swell had again increased in size and to find a crew already in the water. We watched for a while as tiny specks of humans hurled themselves into massive lumps of ocean. Then, summoning their courage, our group of four suited up and climbed down the cliff.
Seeing a wave come his way, Jono paddled into a huge barrel. Suddenly losing speed, he barely had time to draw breath before the foam ball engulfed him. At first he thought he would slip out the back unscathed but a secondary force sucked him into the white wash. Ragdolling around, he found himself jammed feet-first into a waist deep hole in the reef, his back bending in ways it wasn't engineered for. Emerging, winded and shell-shocked, after what felt an eternity, he limped his way into the channel and re-joined the lineup. But his session was over.
Sam, Callum and Cohen continued braving bigger and scarier rides, with Sam and Cohen even having a go at being towed in by a jetski. They copped heavy beatings (luckily no serious injuries) and one of Sam's wipeouts is now in the running for the Nomad Bodyboards Big Wave Awards:
As day four dawned Jono was feeling more than a little worse for wear. He struggled to rise, his battered muscles protesting the morning cold of the desert. The swell had hit its peak overnight and when we arrived at the cliff, marvelling at the continued offshore wind, the Tassie boys were already suited up and ready for battle.
Laura manned their camera gear and Jono, knowing he had to sit this session out, took up his own camera. As usual, Neddy ran around non-stop, begging any and every bystander to throw him a rock. Even after copping an injury when a misbounce smashed him in the face, he wasn't at all deterred. Without missing a beat he returned the offending rock, dropping it at our feet in a bloody spray, and backed up in readiness for the next throw.
We were stoked to see Josh (the lad who'd been taken to hospital) turn up on the cliff, looking remarkably well despite his scabbed face, bruised ribs and concussion. We watched as the lunatics in the water amped it up a notch, catching anything that came their way. Feeling shattered to be missing out, Jono suited up for an afternoon session. However, it didn't take long to realise that his body wasn't up to it and he paddled back in thirty minutes later without catching a wave.
By day five the swell was beginning to drop off slightly. This meant other reef breaks in the area were now surf-able and lineups thinned out. After some expletive-filled morning stretches, Jono joined the boys in barrel-chasing while Laura spent the morning alone at the campsite battling her own demons (of the gastric variety). Neddy, finding there were fewer rock-throwers in the vicinity, took to harassing crabs.
The next day and the one after that and the one after that rolled on as Groundhog Days, with pumping swell and offshore winds continuing. On one of these evenings our campfire celebrations kicked up a gear. More than the usual few beers were drunk, followed by whiskey, and it turned into a celebration we'll never forget. We relocated our ute fireside and filled the desert night with the sounds of our stoke as we cranked the sound system to max volume. Cohen undertook so much enthusiastic wood-gathering that our campfire shot 10 feet in the air.
Despite enjoying plenty of waves, Jono was increasingly aware of the toll the desert was taking on him. He had cuts upon bruises, bruises upon cuts and aches in muscles he couldn't even name. He'd never seen such consistent surf but he was beginning to wonder how much longer he could keep up the pace.
Eventually reality hit Sam, Callum and Cohen, who realised they had to catch a ferry back from Melbourne in two days' time while also fitting in a visit to grandparents in Adelaide. We wished them well and then they were gone. We were alone. Battered, sunburnt, surfed-out and drained of all energy, it was time to crawl out of the desert and back to civilisation. Food, showers and sleep were on the agenda.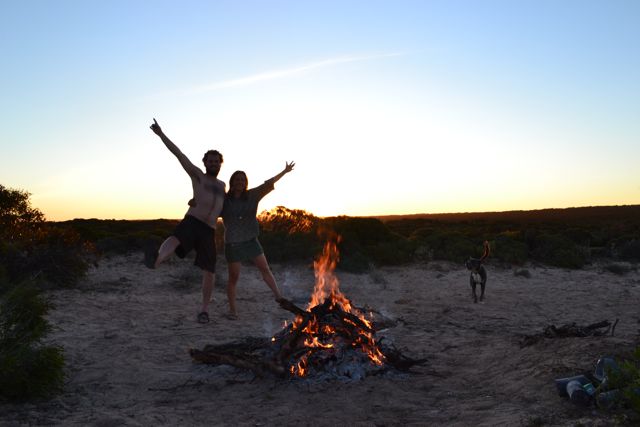 In case you haven't already seen it, check out our South Australia highlights clip, mostly featuring Jono on the booger.