Meet Claude Van Damme.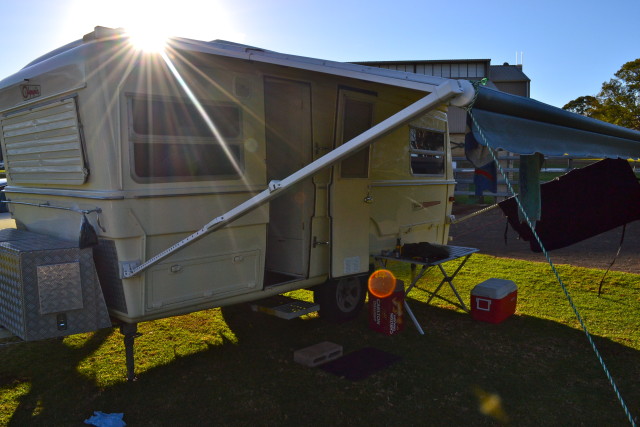 We are lucky enough to call this caravan our own (EDIT: were lucky enough … we sold Claude to lovely new owners prior to our second trip): he's a 1963 (so we've been told) fibreglass Olympic Riviera. Though some might question the prudence of embarking on an open-ended trip in a caravan that's more than fifty years old, on close inspection Claude is in great condition for his age and is actually a very solid unit with more luxuries and mod-cons than you'd expect.
The previous owner completely overhauled the electrical system, converting it to a full 12 volt set up which runs on two deep cycle marine grade batteries and can be powered by a Honda generator when there's no mains power available. It has LED lighting, a gas hot water system (connected to both the shower and kitchen tap) with a 170L water tank, a gas oven, four-burner stove, a three way fridge and a full-sized awning and annex. It's also been slightly lifted so it has a bit more clearance and better off-road capabilities than would usually be standard. All in all this makes a pretty decent set up for free camping.
Despite the good general condition of the van it wasn't all smooth sailing in the lead up to the trip. As well as a fixing a number of minor issues in the week before leaving, we also decided to add some extra excitement by painting the interior and replacing the existing vinyl flooring. It all worked out beautifully and Claude makes a very happy home for the three of us!