Our last post finished up at Moonlight Bay on the east coast of the Eyre Peninsula, just north of Port Lincoln. We stayed there a couple more nights, enjoying all it had to offer – which was plenty.
As well as ocean views, dolphins and seals, on the Friday night, we also spotted what we – applying our extensive knowledge of the universe and interplanetary behaviours – can only describe as a meteor.
A fiercely bright, orange light whizzed across the night sky before flaring, breaking in two and fading away. It was spectacular and we can't help but wonder if our star-gazing has peaked very early on in the trip.
Staring at each other in silent amazement in the seconds following, we were very quickly brought down to earth again, when, out of the corner of her eye, Laura spotted another movement.
Somewhat smaller in scale than the intergalactic pyrotechnics just witnessed, this action turned out to be a scurrying mouse heading directly for the troopy. Tiny and cute as it was, Laura felt little desire for it move in with us and so headed it off in an extremely graceful manoeuvre which definitely didn't involve knocking over camp chairs.
We thought this was a good chance for Ned to show his worth. After 10 minutes of us pointing and shoving Ned in the direction of the mouse, he finally caught a scent and sat dutifully at the wrong bush until bedtime. We don't think he would survive in the wild.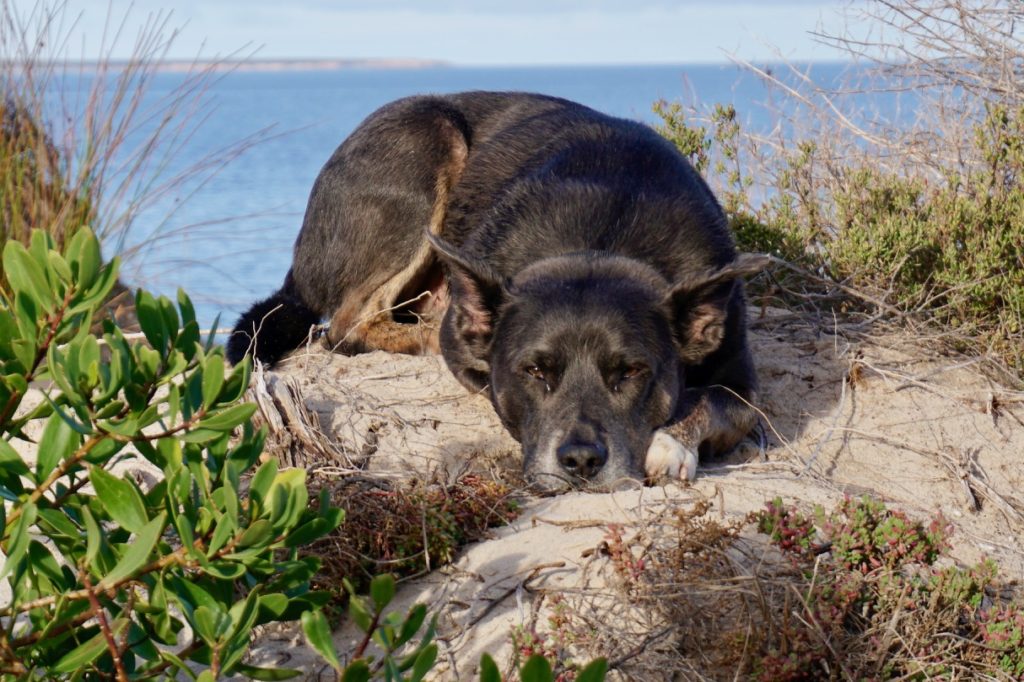 The meteor and the mouse also coincided with a rather momentous occasion in our own puny existences in that Laura awoke on Friday to her final uni assignment results. She is officially going to graduate. Woo. Hoo.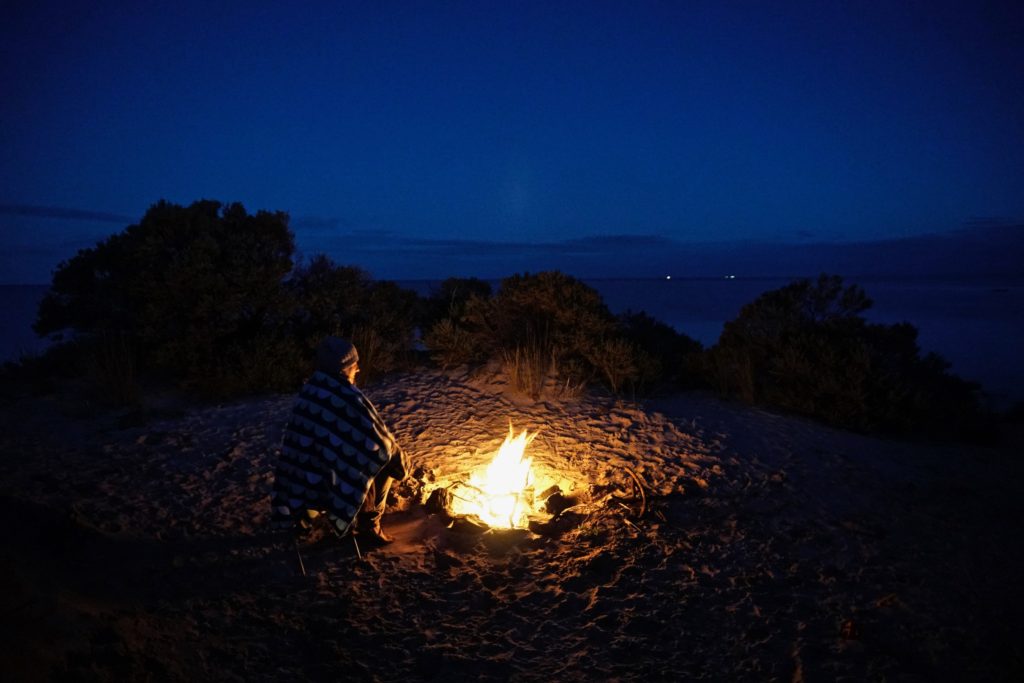 On Saturday evening with the wind picking up and major storm clouds brewing, we made the call to pack up before going to bed so we wouldn't have to deal with wet stuff in the morning. We were running out of food and water, and so a trip into Port Lincoln (the Eyre's largest town) was required.
Port Lincoln
In Port Lincoln we achieved many of the fails we always manage in towns: getting lost, turning up at places before they're open, after they're closed, or on the wrong day all together, going shopping and forgetting what we need only to remember after we've left that we wrote a list etc. etc.
However, we did also wash our car, get it serviced and the windscreen checked for leaks, launder our clothes, and from Vinnies purchase a mixing bowl to replace the one we recently broke and buy Laura an awesomely bright shirt. Win.
Oh, and we can't neglect to mention Jono's overly enthusiastic purchase of a bargain-priced family-sized custard tart ("it's only $4!"). It took just one slice for Jono to realise just how much tart he was in for. To his credit, he did get through it (Laura helped out with a couple of pieces). So far on this trip we've not wasted or thrown out one skerrick of food, which is something we want to continue.
It was also while in Port Lincoln, wandering the streets with Ned waiting for our car to be serviced, that we finally christened our troop with a name. Everyone, meet Tennyson. Troopys have their own kind of poetry.
Drummond Point
From Port Lincoln we headed north-west to Drummond Point where we overnighted on cliffs overlooking a wonderful sunset.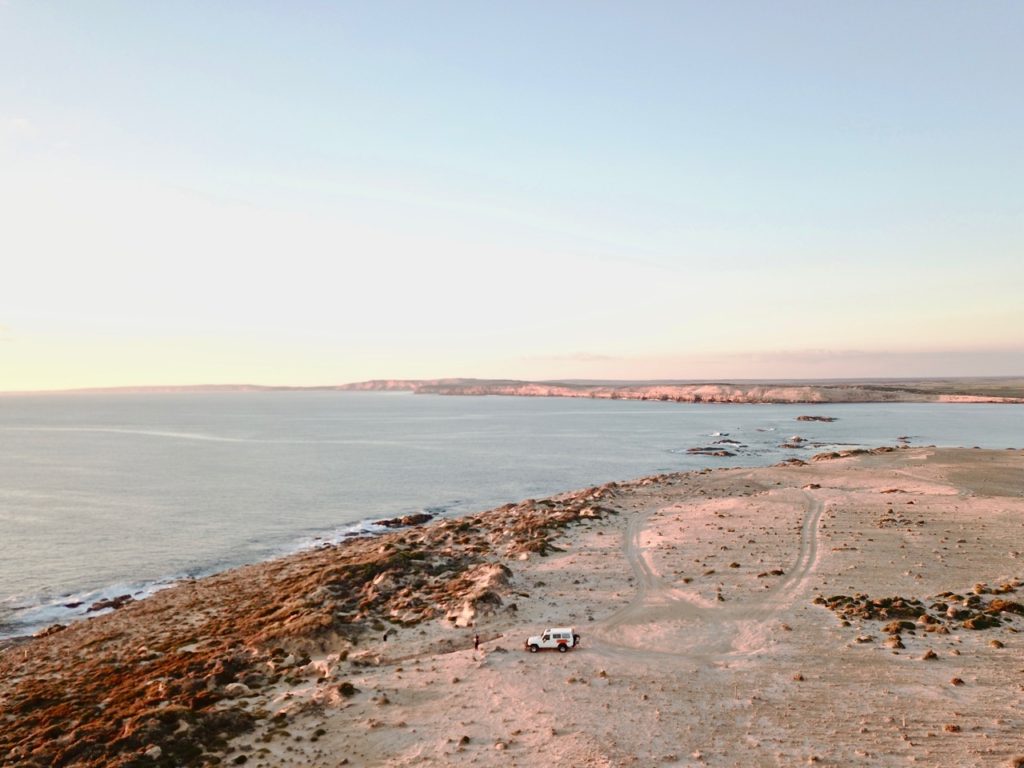 We also just about wet our pants laughing on the way in, when, in his haste to be first out of the car, Ned vaulted into the front and somehow landed face-first between the two seats and got stuck. We really can't do the scene justice but suffice to say we'll never forget the sight of his wiggling bum sticking up in the air.
Waking with the sun at Drummond Point the next morning was our first proper realisation that we are camping in South Australia in winter. Yes, Laura has already been wearing about five layers a day plus a blanket as a skirt over jeans, but this was the first morning the cold really slapped us around.
The wind stung our eyes and burned our faces and made our hands so cold they hurt. Getting dressed hurt, packing up hurt, jamming our fingers hurt much more than usual. And when things wouldn't fit in their places, Jono snided Laura's shoes, and then his ears hurt because she got the strops at him. But all was ok once we'd defrosted. Then it was time to find Jono some surf.
We headed into some sand dunes and in our enthusiasm to reach the waves, immediately got bogged like the city gronks we are. Then followed laughing, digging and tyre deflating which, happily, didn't take too long.
Pulling up at the water's edge where Jono wanted to paddle out, no one else was there. The combination of freezing water, stabby rocks and lack of people to share in the white pointer lottery (no way was Laura joining him on that shallow reef break) meant that some amping was required before he felt ready to go in.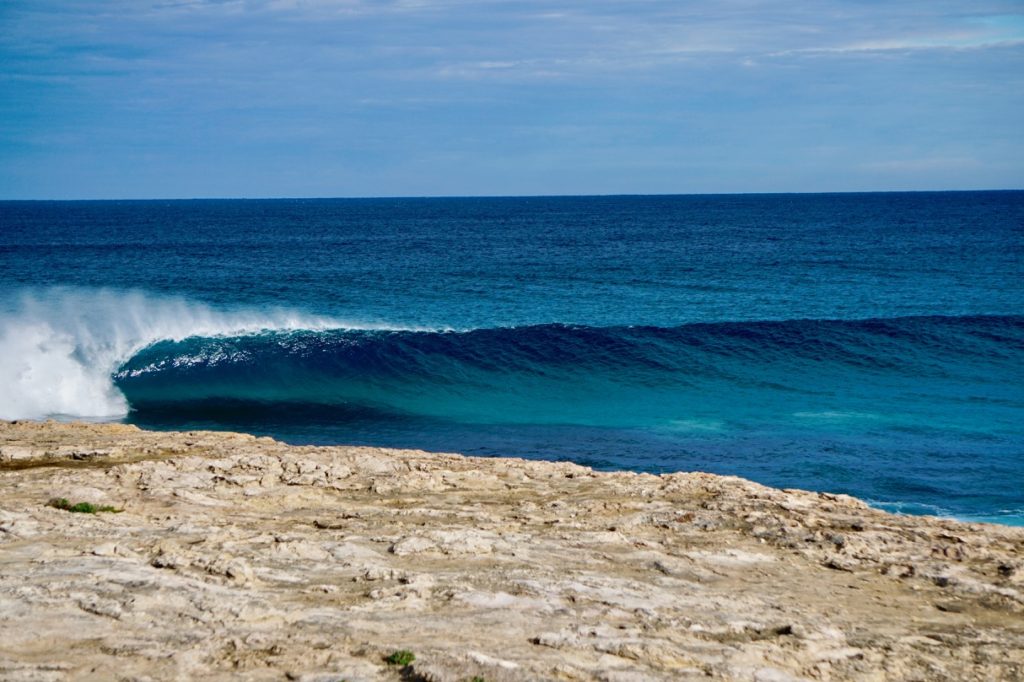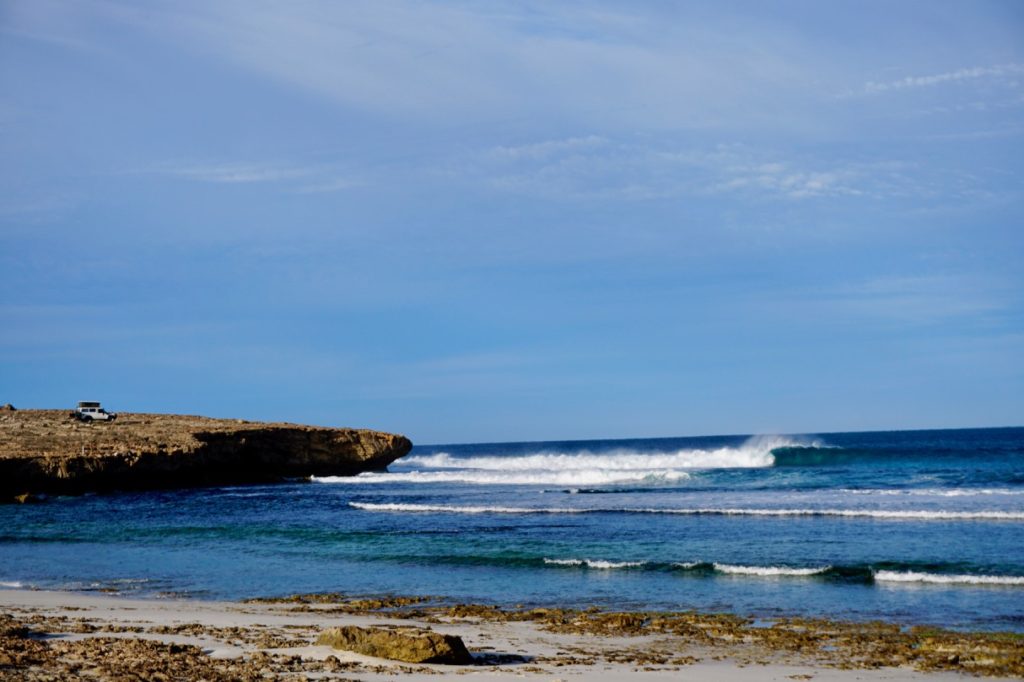 So, while Jono watched the waves, Laura took advantage of the sunny weather and made French toast, a batch of burger patties, and chia pudding. She also made a huge mess. Getting used to our kitchen layout is definitely a work in progress.
By the time she was finished, Jono was suited up and jittering about. After being shown the ins and outs of the camera set-up and forcing Jono to listen seriously to her instructions (scan water constantly, double-arm wave = "get the hell out of there"), she and Ned watched nervously as Jono paddled out.
Thankfully, no sharks were spotted, although an enormous pod of dolphins swam past, some of whom came right up to Jono and jumped out of the water just metres away.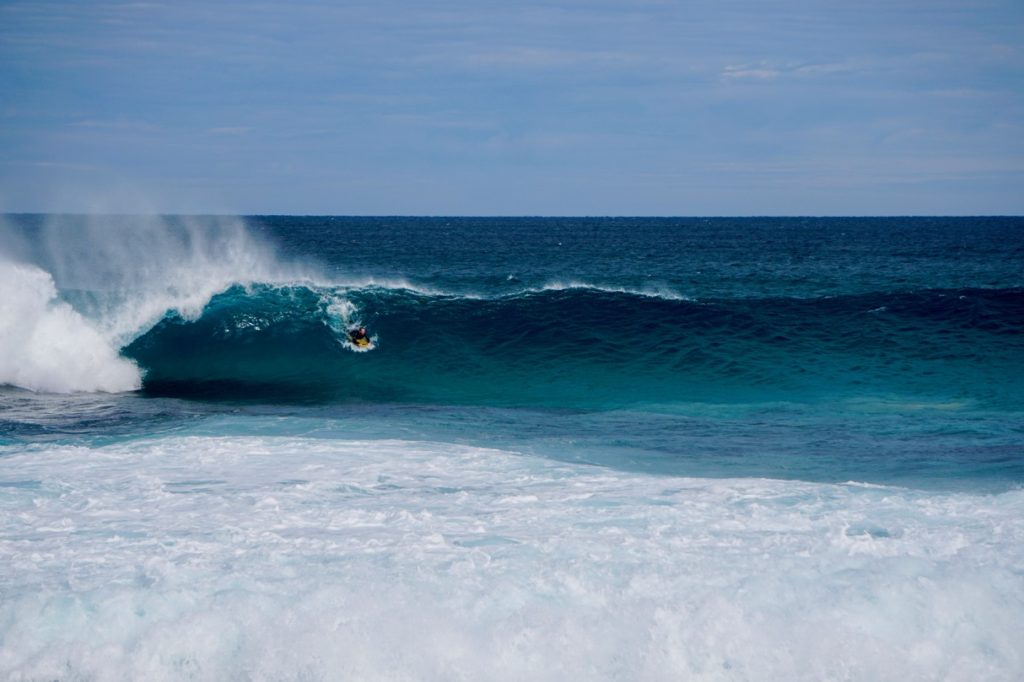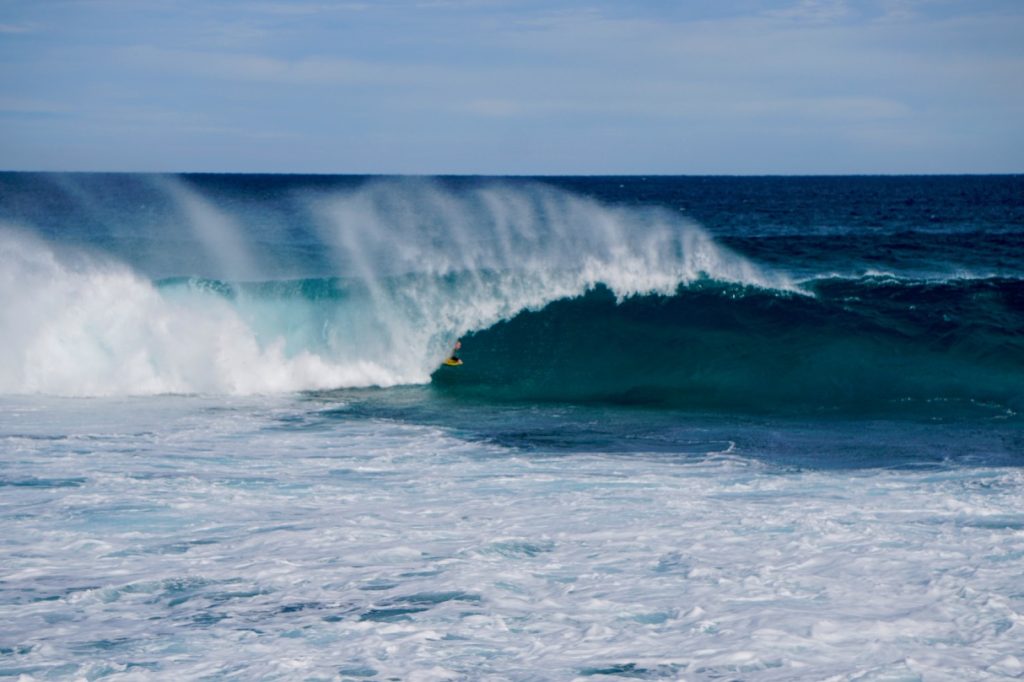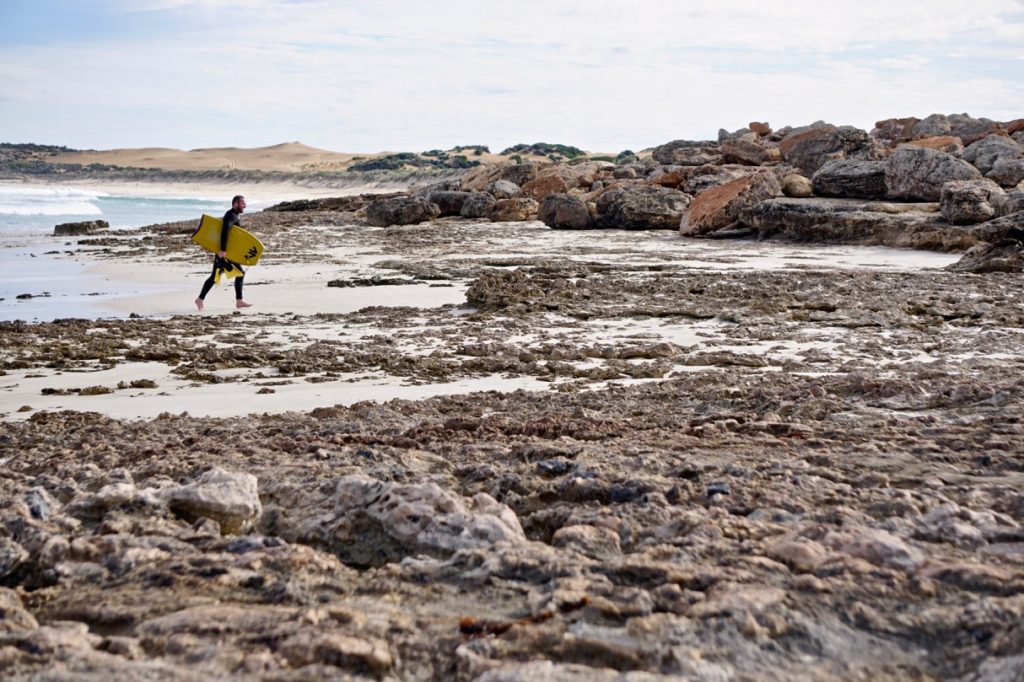 Laura and Ned were very glad when Jono returned unscathed. The next morning, they were confused as to why he would go in on his own again (in a wet wetsuit, no less), on an overcast, even sharkier looking day with much less favourable wind.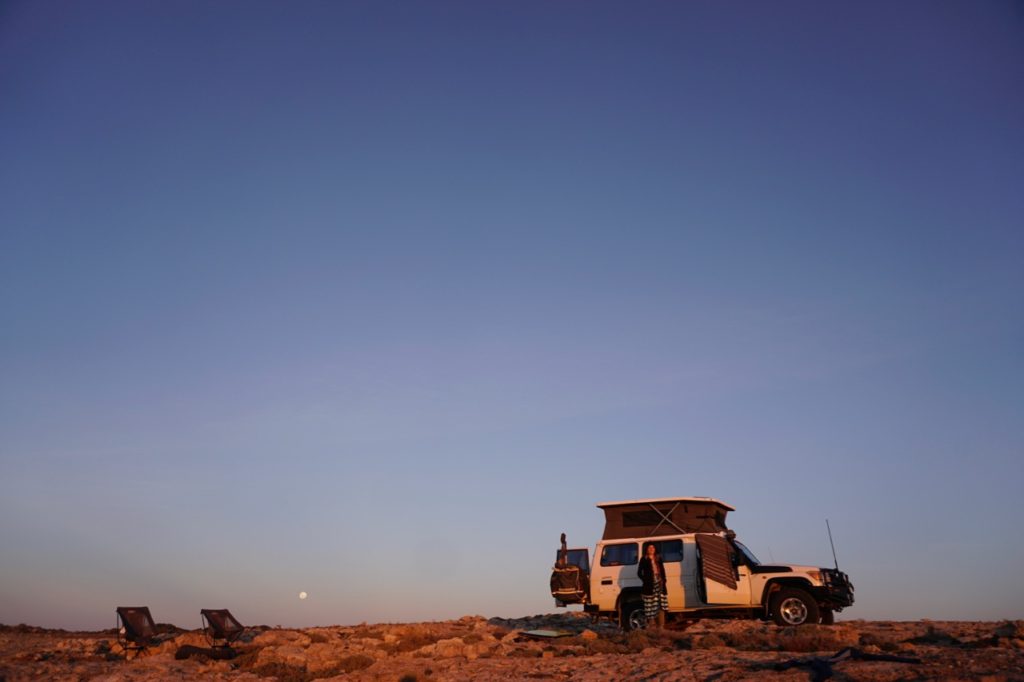 As the not-so-favourable wind was set to continue, we decided to pack up and head back to Drummond Point for a few days, which is where we are now, bellies full of burgers and having witnessed a gorgeous sunset.
No Jonoisms to report this week, probably because he's been too full of tart. Laura has made peace with the fridge and is happy to say they're getting along quite well. As for showers, our last hot ones took place in Melbourne and are but a distant memory. Two weeks and counting, folks.