We are writing this perched on the edge of an Eyre Peninsula sand dune overlooking a calm, clear ocean without another human in sight. The sun is shining, the wind is gentle, and we are relishing these moments because this is 4WD travel at its best.
For those overcome with envy, take heart from the fact that we're surrounded by storm cells looming closer with each passing moment, we've got sand in our bed, our car and every crevice, Neddy has rolled in something we're pretty sure is poo, and we haven't showered in eight days. Ahhhhh, life on the road.
Anyway, back to where we left off … Driving out of Melbourne we could see a huge cloud front gathering force and knew we were in for some rain. It sure delivered and at one point we had to pull over because we couldn't see through the waterfall to steer safely.
We stopped that night at a rest stop we didn't fully appreciate until the morning when we awoke to see a picturesque little lake complete with a working windmill. After taking Ned for a quick walk, we continued to Adelaide.
We were driving into the city, listening to the Presets, when, in one of those serendipitous life moments, Jono made an offhand remark about how good it would be to see their new album played live.
Employing the marvel of mobile technology, Laura discerned they were playing in Adelaide that night. Nek minit, we're in a crowd of heaving bodies at the Thebarton Theatre. This was an experience we hadn't been anticipating!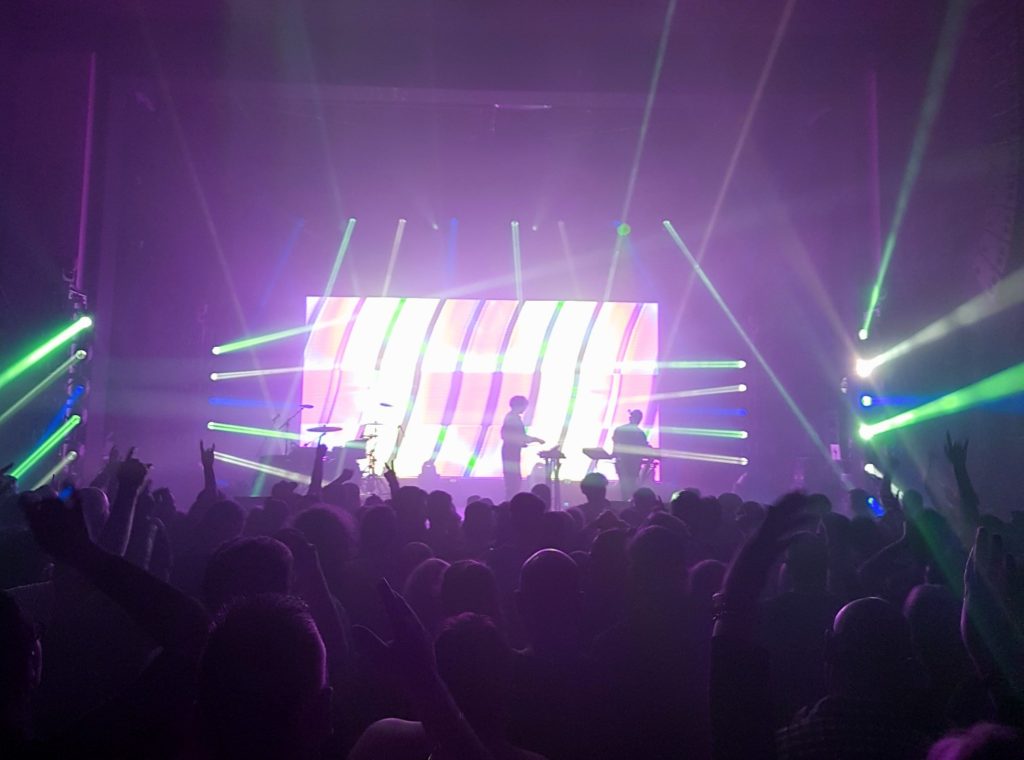 We spent one more night in Adelaide and completed a few little shopping forays including buying a second set of MaxTrax, visiting Snowy's because it's awesome and we could, looking in op shops for a steamer basket to fit our saucepan and, when that failed, braving Ikea.
We also treated ourselves to banana and salted caramel crepes from a cute little café in Mile End and watched the World Cup Australia v. France match in a little sports bar with an excellent array of craft beer.
At the end of our last day, after doing an Aldi shop, we were on our way out of Adelaide when streets started looking familiar and we realised it was near here that we'd had the best burgers in Australia (yep, we're calling it).
We agreed that if the Hema took us past Barry's in Semaphore, it was fate and we'd have to have a burger. However, on reaching a turn where the Hema said to take a right, Jono went left. And then straight when it again said to turn right. Lo and behold, we were outside Barry's.
Laura felt some cheating had gone on but apparently Jono's understanding of the arrangement had been that we could have a burger if we reached the shop without any wrong turns. As we were there, we decided it was pointless to piddle over technicalities.
Seriously though, if anyone reading this ever goes anywhere near Semaphore, go to Barry's! The burger ingredients are locally sourced with vegan options available, and both times we've been there our meals have blown us out of the water.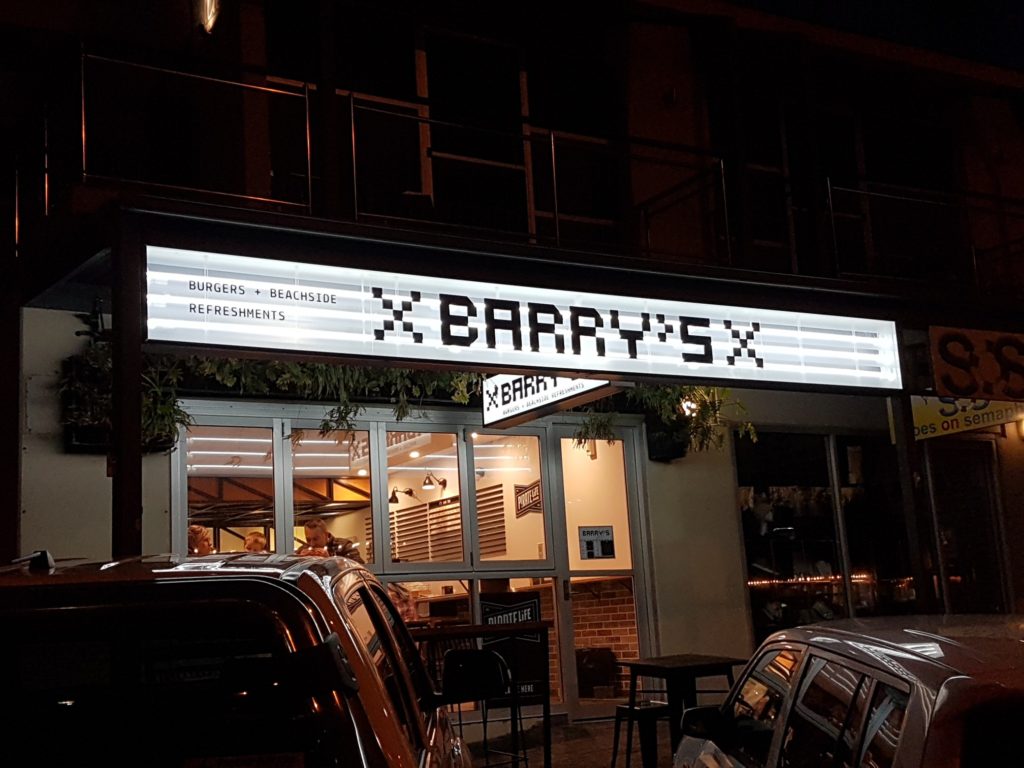 After Barry's, it was well and truly goodbye Adelaide. We pointed our bonnet to the Eyre Peninsula which had been one of our favourite places from the last trip. We were excited to see it again.
While driving through Port Augusta we stopped in at a carwash place to spray off the small amount of mud we'd accumulated on the troopy. This turned out to have been a waste of time as the drive into our campsite on Whyalla's Spencer Gulf (made in the dark and rain) was a sketchy, slippery, sliding affair that left our poor troops with an inch of mud on his tyres and his body well and truly splattered.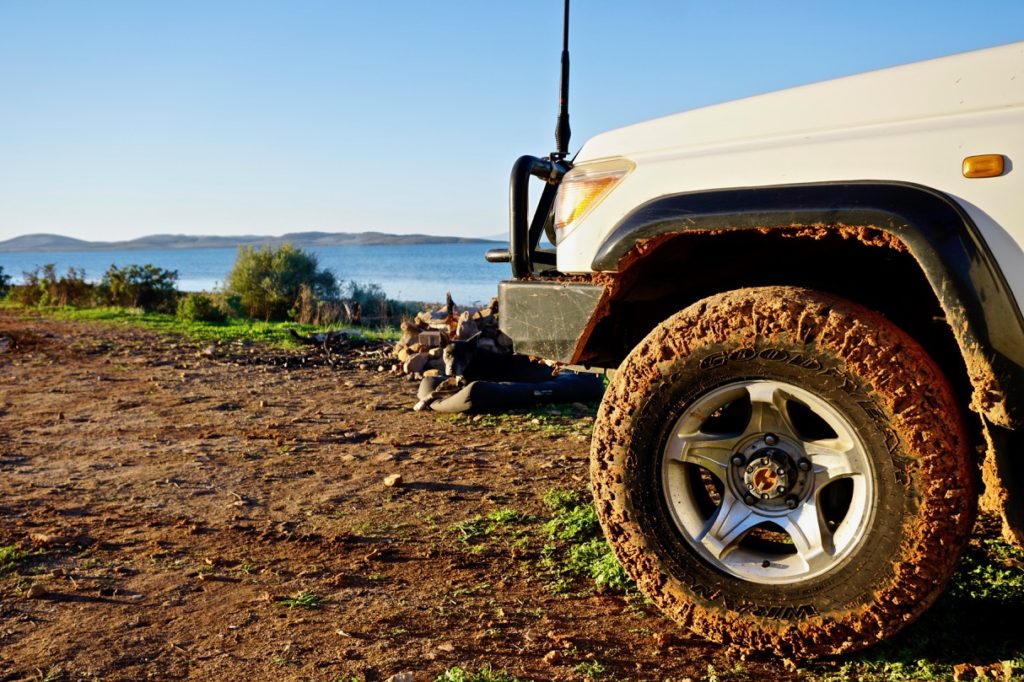 Mud aside, we were stoked to awake the next morning at an amazing new campsite. We could see the southern Flinders Ranges across the water and dolphins cruising past, which turned out to be a regular occurrence during our time there.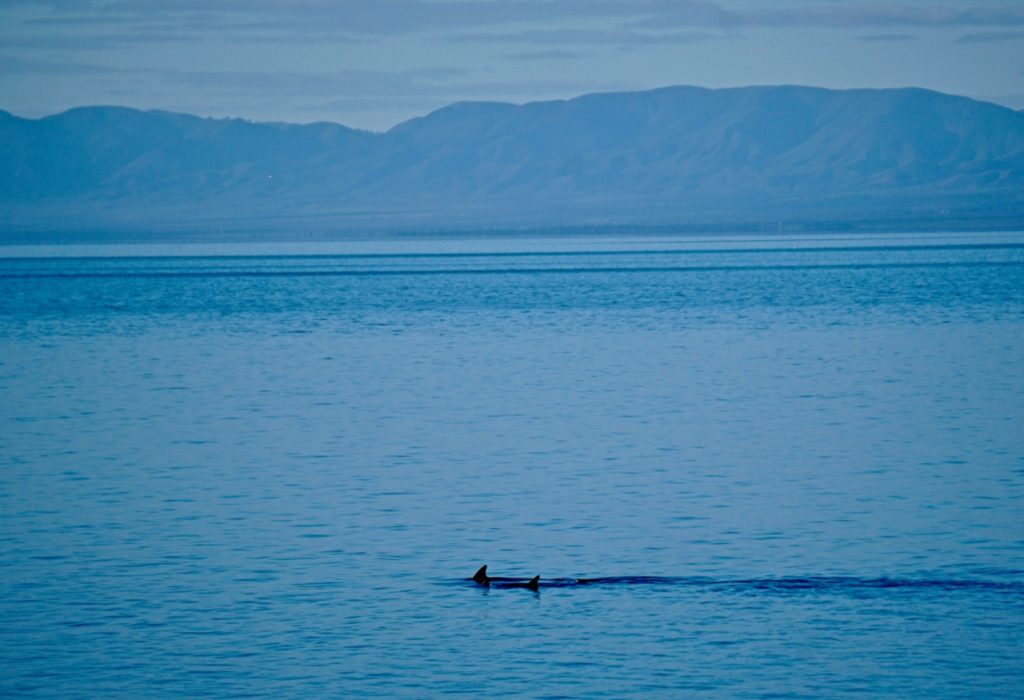 Highlights of this stop included our ever-burning masterpiece of a campfire which kept us toasty warm, Neddy going nuts off lead absolutely loving life, nudey splashes in the freezing water, and Jono stepping on a huge stingray (no injuries were sustained, except maybe to Jono's voice box which emitted a very high-pitched noise).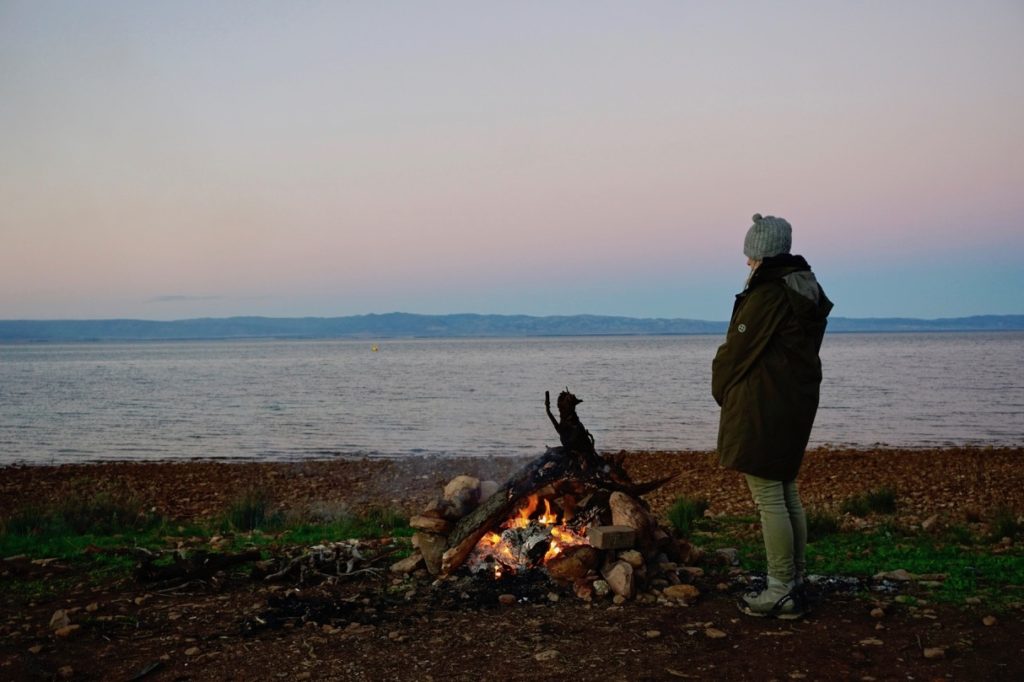 Some curious local emus also came a-visiting. A stroke of good luck saw Neddy tied to the car when they arrived as Jono had the drone in the air. We're not sure what emus would make of a barking Ned.
We did have one day of whoopsies when we broke our favourite bowl, cracked a rotten egg into our pancakes, dropped a bag of rice and burnt the bottom of our pressure cooker. We took it in our stride though. Hard not to, with views like these.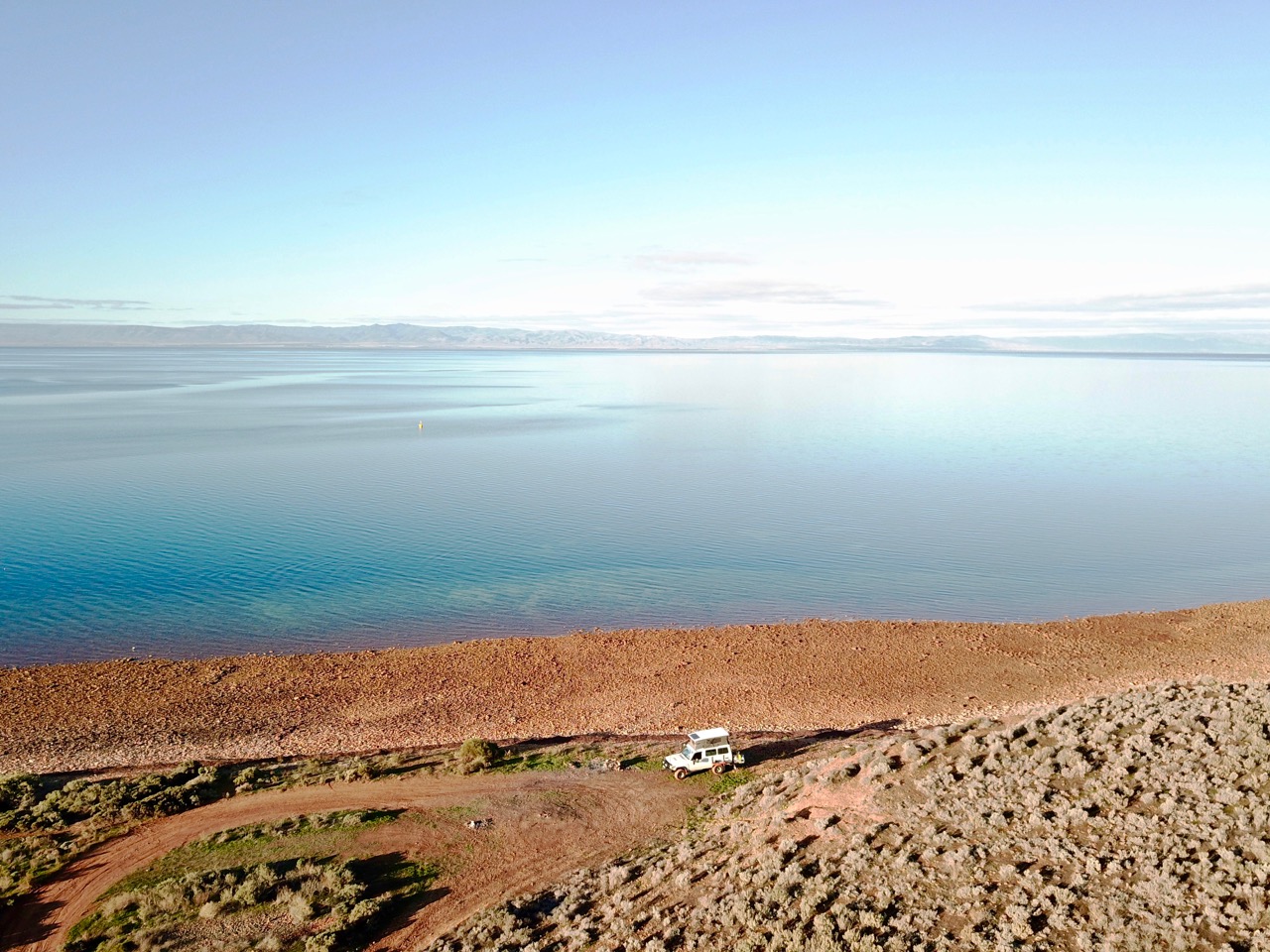 After three nights it was time to move onwards and downwards along the Eyre. We decided to visit a place we'd previously stayed and loved called Moonlight Bay because we remembered it had some neat little camp spots accessible only by 4WD.
And that's where we are now (sun shining, gentle wind blah blah blah).
We've only been here one night but we're pretty stoked on life, especially because we've successfully set up our RV tent which has turned out to be much more rainproof than we anticipated (it rained overnight) and provided good wind protection for our little stove while we cooked dinner.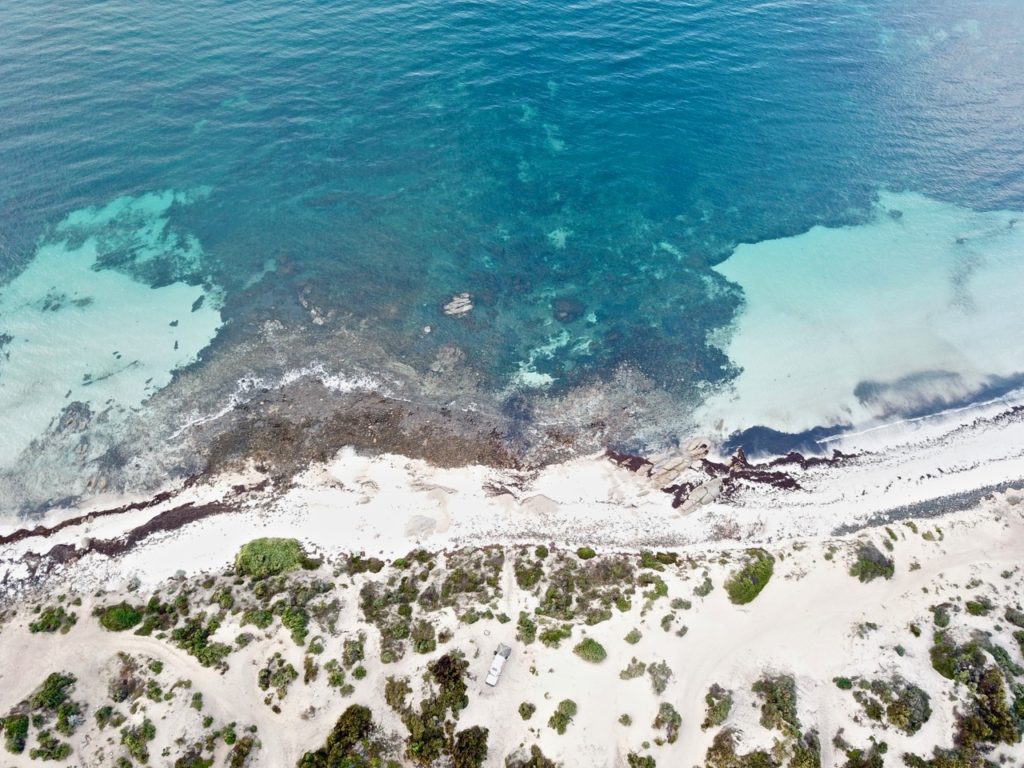 Some classic Jonoisms this week include him not knowing where he was "in the scheme of the [bed] sheet," which was also apparently "tight like a screw".
For her part, Laura has been hating on the fridge, the lid of which doesn't stay up and is like a Tetris puzzle to get anything in and out of. Jono says soothing things like, "imagine how lucky you would feel to have this technology if it were 100 years ago," and Laura wants to kill him.