A couple of months ago (literally the day after our caravan disaster – it was a roller coaster of a time!), we received a lovely and unexpected email from someone working with Mountain Designs. They'd seen our blog and social media accounts, liked our content, and decided to get in touch.
They wondered if we'd be interested in trying a couple of Mountain Designs products and sharing our opinions. Since we know and like the brand and already have some of their gear in our arsenal, we pretty much couldn't say 'yes' fast enough. So, after figuring out what gaps we had in our 'outdoors stuff' (which is pretty much all we own these days), Mountain Designs sent us a care package consisting of one Storm King Rain Jacket, one Storm Queen Rain Jacket and a very snazzy 750mL Classic Thermo bottle.
We received these items right before travelling to the notoriously dry north-west Australia coast and so wondered if it might be a while before we'd be able to test the jackets to their full capacity. We needn't have worried. We arrived in Exmouth just in time to enjoy weather like this:
Unsurprisingly, we've now had a number of opportunities to wear the jackets in conditions they were designed for and so have put our thoughts together below. As these items are part of the one premium range and are pretty much identical apart from some slight design differences (men's versus women's), unless otherwise noted, all comments apply to both the Storm King and the Storm Queen.
Sizing: Jono, who is normally a men's large ordered a large, while Laura ordered a 10. Both jackets fit as expected. The sleeves reach the start of our thumbs, which is perfect. But if you have longer limbs (ie. long arms) you might want to try before buying just to make sure that they have enough length for you. The jackets incorporate adjustable Velcro wrist straps which allow you to shorten the sleeves. Laura, who has quite small wrists, was pleased to find that this strap is tight enough to actually hold the sleeves above her hands – unlike other jackets she's owned.
Fit: Designed to be a 'relaxed fit', the jackets aren't totally slimline but they're not too billowing, either. Importantly, they offer enough room to layer up in cold weather, or you can fit a very slimline backpack/camel pack underneath. There's also numerous ways for wearers to customise the fit: there's the Velcro wrist straps, adjustable waist and bottom hems, and lots of adjustable elastic ties around the hood. The hood itself features a small baseball-cap-type brim (great for keeping rain off your face in general and for protecting your head torch at night) and can be stowed completely away via a zip pocket.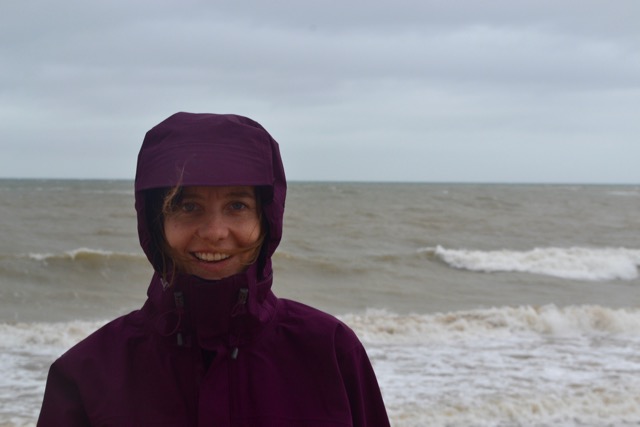 Length: Up top these jackets are hooded and have a collar that protects the lower part of your face, minimising exposure to the elements; down low they extend to mid-thigh, which we love. Apart from keeping us dry while we're out adventuring, the length gives them much more versatility: they will be awesome for our next snow visit. Rather than buying expensive and bulky snow jackets, both of us simply wear our rain jackets on the slopes and layer up underneath. This gives us the option to remove layers if the day warms up and the extra length means that our bums stay dry even after sitting in the cold stuff.
Water-proofing: The Storm King and Storm Queen jackets are made from 'Gore-Tex 3 layer, spun plain woven 75 denier polyester with tricot backer'. They stand up to 'Gore's most aggressive rain test, simulating extended vertical and horizontal wind-driven rain conditions', which, in layman's terms, means they offer extreme wet weather protection. We haven't yet done a rainy all-day hike in them yet but we have spent extended periods outside in driving wind and rain. It took a while for the jackets to get soaked on the outside ('they're like duck back!' said Jono), but after they eventually did, we stayed dry on the inside. They also dried relatively quickly once we got in out of the weather and gave them a good shake off.
Comfort: In terms of fit and useability, we really love these jackets. There's no getting around the fact that they 'swish' slightly when we move, but that's the price you pay for good quality, waterproof material. (If you're after something non-'swishy' then you might need to look into soft shell outwear, but know that it won't offer anywhere near the same degree of rain protection.) Designed to be highly breathable, these jackets don't allow water to penetrate from the outside, but they do let your sweat dissipate. One comfort feature we would appreciate is the ability to somehow fold or stash away the collar piece which protects your lower face in extreme weather. When not in use it occasionally gets in the way.
Look: We are very happy with the look of our jackets, which are available in two colours: the Storm King comes in the maroon-coloured 'Port', and the Storm Queen is available in a deep 'Potent Purple'. They're low-key, have an earthy sort of feel to them and complement each other nicely without being too matchy-matchy.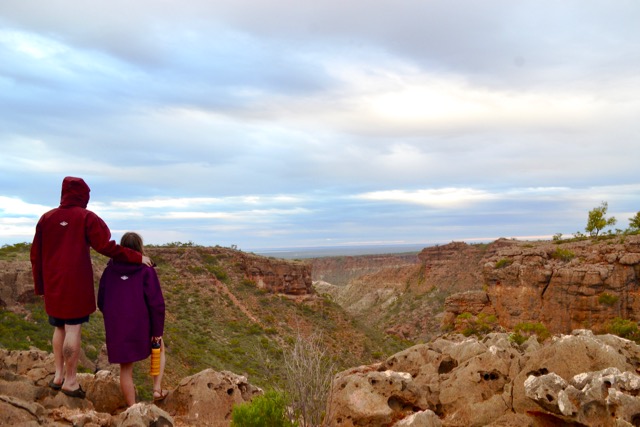 Pockets: Each jacket has two large external hip (Velcro flap) pockets and a smaller internal (zippered) mesh pocket. The Storm King also has an external chest (zippered) pocket, which Laura was disappointed to miss out on since she loves pockets. The external hip pockets flaps are at a 180 degree angle and – if we were asked to suggest a design improvement – we'd prefer the entry points of these moved so that our hands could slide in from the side rather than the top.
Care: These jackets can be machine-washed at home in warm water (yay!). Once dry, Gore-Tex recommends tumble drying for 20 minutes to reactivate the waterproofing technology. They are also dry-cleanable, if that's your preference.
Ruggedness: We've only had these jackets for a few weeks so it's impossible to say for sure how well they'll stand the test of time. However, our initial impressions of quality and finish suggest that we should have them for a number of years and many, many adventures to come. We'll update this post if we do encounter any issues.
Overall: In terms of quality, fit and design these are far and away the best rain jackets either of us have ever owned. One thing we've learned on this trip is that we are much better off buying fewer quality items than numerous cheap ones. We save up our money, get the best we can afford, and then keep it for years to come. These jackets definitely fall into that 'quality' category. We are heading to a European autumn in a months' time and we can't wait to see how they stand up to our adventures over there.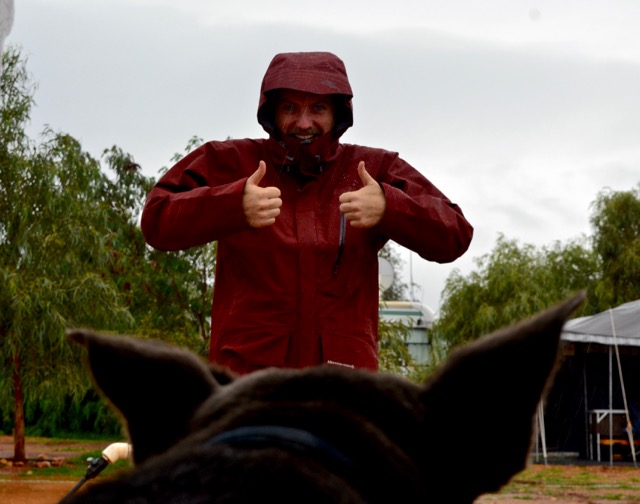 If you'd like to find out more about these jackets head over to the Mountain Designs website. The Storm King specs, info and reviews can be found here; the Storm Queen here. Plus, they are available for sale at a 25% discount at the time of publication of this post.
FULL DISCLOSURE: As noted above, these items were supplied free-of-charge by Mountain Designs for testing purposes. However, all opinions are completely our own and have not been censored in any way.