Heading north from Coober Pedy towards Alice Springs we found ourselves back on corrugation. The flat and rocky terrain was devoid of trees, grass and pretty much anything between us and the horizon. After a few hours we came upon Arckaringa Station and an outcrop of mountains known as the Painted Desert. Under vast blue skies we were stoked to be able to take a walk through this beautiful place with Ned by our sides.
We spent that night in the small town of Oodnadatta. Although the town provides a great little free camp near its iconic pink Oodnadatta Roadhouse, we couldn't sleep for the howling and barking and woofing and screeching of what sounded like hundreds of dogs. While Ned was unperturbed by the cacophony, to our human ears it was almost unbearable – we've never heard anything like it and hope never to again!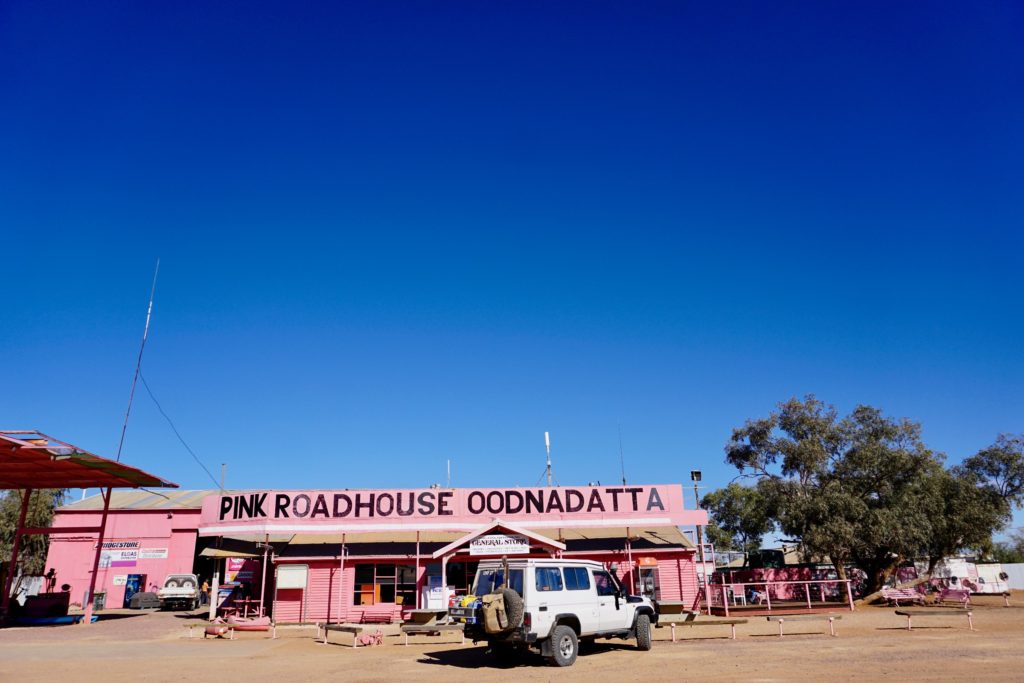 Next day, the plan was to tackle the western section of the Oodnadatta Track. However, at a crossroads we made the spontaneous decision to turn right instead of heading straight. This changed our route all together, taking us through Witjira National Park and condemning Ned to a long and boring day in the car. Happily, he'd already had fun that morning chasing his ball on a clay pan and a ginger cat up a tree. We've encountered so many wild cats in South Australia and can only imagine the devastating effects they're having on the native wildlife 🙁
While in Witjira we spotted a sign for Dalhousie Springs and stopped expecting to find a little puddle. Instead, we were amazed by huge, lush oasis. While we found it more refreshing getting out of the 38-ish degrees water than in, it was an awesome experience all the same. We would have loved to camp there for a few days if only Ned was allowed.
As it was, we continued north-west to Mount Dare Hotel, a common endpoint for travellers who've completed or are about to start the Simpson Desert. Boasting the distinction of being South Australia's most isolated pub, we were pleasantly pleased to find Coopers Reds set us back just $7.50 a pop – cheaper than most Sydney pubs. We felt a real sense of accomplishment getting to Mount Dare Hotel and look forward to visiting again one day, hopefully after a successful Simpson Desert crossing.
The road west from Mount Dare was the bumpiest and rockiest of our trip so far and chewed up our tyres good and proper. We were happy to make camp that night just because it meant the jolting would end. Setting up and watching the sun fade across the plains we were shocked to discover we were inside the Northern Territory border and had made the crossing without realising.
The next morning, keen to make the most of our first few days in the Northern Territory, we set course for the Lambert Geographical Centre of Australia. As the name suggests, Lambert's is the smack bang centre of the country (we've written a post about Lambert's for Outdoria which you can check out if so inclined). We enjoyed a fun few days camping here with the experience marred only by a gust of wind slamming our car door on one of Jono's thumbs.
Had the door caught his poor digit on the joint instead of the nail, our trip would probably be in tatters right now while Jono recovered from surgery. It was a scary moment followed by a very uncomfortable day for Jono and reminded us just how fragile plans are. Unshowered, dusty and dirty as we are, we're so grateful and happy to be on this trip and we wouldn't change it for the world.