After planning to leave on Monday, then Tuesday, Monday again, then Wednesday, we finally pulled out of the driveway at 4:24pm on Thursday 26 February, 2015. Driving out of our street was a bizarre feeling, and we were nervous wrecks, expecting the caravan to fall off the back of the truck at any moment. We cleverly (cough, accidentally) took the M1 and so an hour and a half of snail pace peak hour traffic was enjoyed. Sydney's special farewell to the three of us.
Our first evening was spent in Ulladulla visiting friends (hi Maloneys!), then we were up bright and early and on our way to Melbourne via Braidwood (a very cool little town with a café culture to rival Avalon) and Yass, where neither of us have been before, but where Jono has a lot of family history.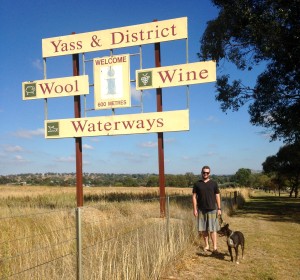 It was in the main shopping strip of Yass that we nearly suffered our first lost item of the trip (Laura's fault): a water bottle, which had been gifted to us by Bree and Jordan less than twelve hours earlier. Happily, the water bottle enjoyed only a brief taste of freedom before we tracked it down outside the hardware store. It now has our mobile numbers emblazoned in permanent marker, which should put paid to any more thoughts of escape.
While in Yass we drove to the cemetery where Hamilton Hume (he of the Hume Highway) is buried. An interesting guy, Hume was the only Australian born colonial explorer*, and also happened to marry into Jono's family on his mum's side. Lunch was a simple though awesome roadside affair with a great view: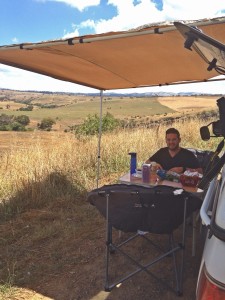 After lunch we drove around looking for the house Jono's step-grandfather grew up in. The information we had was that the house may or may not be a bed and breakfast and that it may or may not be painted yellow – so I'm sure it will come as a surprise to no one that we didn't manage to find it!
We've just pulled out of Albury where we had a swim and some dinner, and are now heading to Melbourne. As I was writing this a car pulled up next to us at lights, beeping, to inform us that our caravan door was open and flapping in the wind. Luckily nothing fell out but we'll need to take trip to the hardware store tomorrow to buy a new latch (ripped off) and hinge (bent). We'll try not to leave our water bottle there.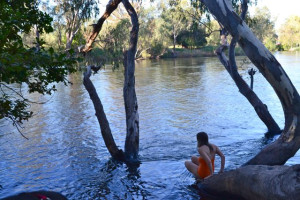 *Fact courtesy of the Yass Valley Visitor Information Centre.